Vale Earnings Disappoint With Inflation Adding to Iron Slump
(Bloomberg) -- Vale SA reported lower-than-expected earnings as the world's No. 2 iron-ore producer grappled with slumping prices of the steelmaking ingredient at a time of rising energy and transport costs.
Adjusted earnings before items came in at $6.94 billion in the third quarter, the Rio de Janeiro-based company reported Thursday. That beat the year-ago result but was down from the second quarter and trailed the $8.83 billion average estimate.
After economic recovery sent prices and profits surging earlier this year, iron ore miners are coming back down to earth. Futures are down about 50% since mid-July as China curbs steel output to contain pollution and power use, while costs rise along with freight and fuel prices. Vale is starting to trim supply of lower-quality ores to defend margins.
The Brazilian miner and its Australian-focused peers, Rio Tinto Group and BHP Group, were cut to hold from buy last week at Jefferies due to "near-term downside risk to iron ore and to consensus forecasts, declining capital returns, accelerating cost pressures, and increased operating risk."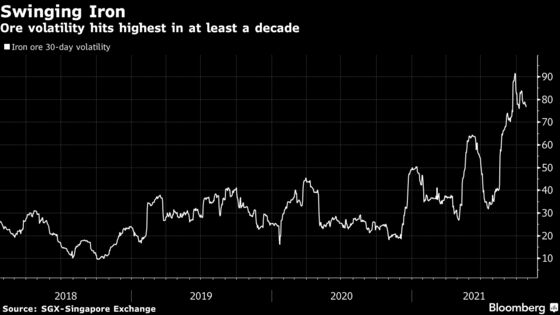 Still, the average third-quarter iron ore price stayed above year-ago levels, helping push up net income by 34% to $3.89 billion despite an impairment at its coal business and disruptions at base metal operations in Canada. 
Vale's Sao Paulo shares have fallen 16% this year, in line with the average among peers. Its New York-listed shares were down 1.5% before the close of trading Friday.
While Vale produced more than analysts expected last quarter as part of an ongoing recovery from a 2019 tailings dam disaster, sales lagged production. Analysts will be looking out for more details on the "value-over-volume" strategy on calls with analysts Friday.
For Vale's base metals business, the challenges are more operational than market focused, with a prolonged strike in Canada restricting output and shaft damage suspending operations at another Canadian mine.  
While Vale sees downside risks for nickel in the fourth quarter due to power cuts at stainless-steel mills, the long-term outlook remains positive on electric-vehicle demand.
"We continue to work towards improving operational reliability, especially in the base metals business," Chief Executive Officer Eduardo Bartolomeo said in the report. "Our cash generation remains robust, surpassing last quarter by 18%, a pace that allowed the payment of historic dividends in 2021."
That confidence was reflected in a separate announcement Thursday of a new program to buy back as many as 200 million shares. That follows the repurchase of almost all the shares in a 270 million buyback program.