Vale Analysts See Charges, Lawsuits and Halts Undermining Stock
(Bloomberg) -- A deadly dam collapse is expected to keep Vale SA shares pressured in the short-term, as Friday's accident at the Feijao mine prompted 11.3 billion reais ($3 billion) in blocked funds and fines, leading the world's largest iron ore producer to suspend dividends.
While sensing a limited impact to Vale's production, analysts highlighted risks including remediation charges, lawsuits, additional inspections and the potential closing of other mines. HSBC, Macquarie, BMO, Jefferies and Clarksons Platou have downgraded the firm's American depositary receipts. Bank of America Merrill Lynch put the stock temporarily under review, saying that the stock should decouple from fundamentals in the short term.
Vale plunged as much as 20 percent in Sao Paulo on Monday, the biggest intraday drop since October 2008. Holding company Bradespar SA fell as much as 21 percent, also the most in a decade.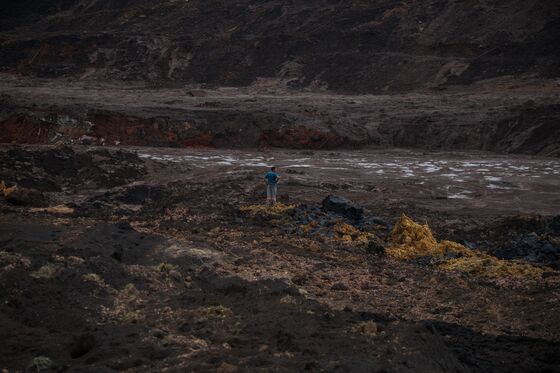 "Given that this is the second dam burst linked to Vale, we would expect more stringent remediation requirements and tougher penalties to be applied," Macquarie analysts led by Grant Sporre wrote in a report Monday. HSBC estimates the total liability for Vale from the accident will be $3.5 billion.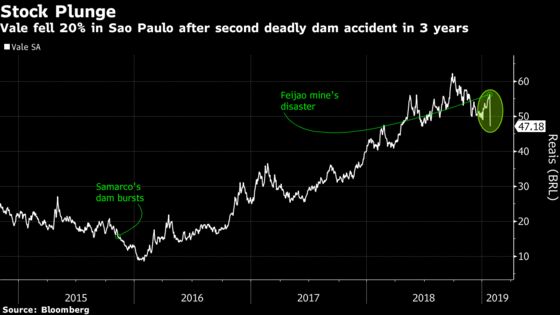 Bank of America Merrill Lynch, Timna Tanners
Full repercussions of Friday's dam collapse tragedy remain unknown
Shares aren't expected to trade on fundamentals

"Shares may instead trade with headlines of the fallout from the tragedy"

Stock recommendation moved to "under review"
Vale can compensate for any list Feijao production at other mines, if allowed by the government
"We could also expect greater scrutiny of all Vale's tailings containment programs going forward"
Bradesco BBI, Thiago Lofiego
While the accident's financial impact is unlikely to exceed that of Samarco's, Bradesco BBI says Vale's share price performance might be hampered in the near term, as news on potential fines and costs intensifies
Dam in question was about one-fifth of Samarco's tailing dam size, so the final environmental cost could be lower, although compensation to families could be higher
Effect on Vale's operations could be limited due to production flexibility between systems
BTG Pactual, Leonardo Correa, Gerard Roure
Regulatory response will likely be more aggressive
"Put simply, the intangible aspect (at this point unquantifiable) of this incident is what concerns us most, and at the end of the day the entire mining industry will need to re-think the current model"
Stock should most likely remain pressured until there is more clarity on the outlook
Although the direct impact on iron ore production is likely to be negligible, the implications of the accident could be material
ADRs downgraded to hold from buy
Repercussions of the collapse are expected to affect operations with potential mine closures, lawsuits, remediation charges and other liabilities
HSBC estimates $3.5 billion liability from the accident
Price target cut to $14.50 from $18.00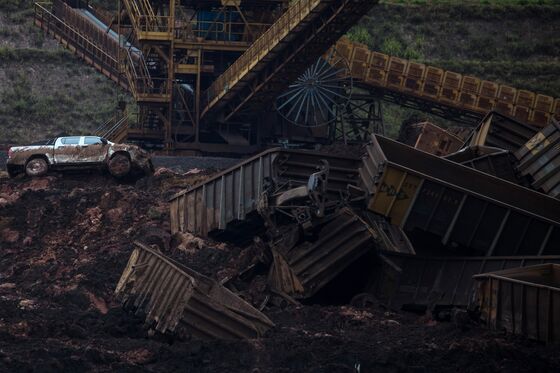 Itau BBA, Marcos Assumpcao
Accident could weigh on Vale's short-term share price performance as authorities may decide to scrutinize the structural condition of other tailing dams, temporarily halting production at other mines
Vale will have to offer compensation for the potential damage
Event may also delay the restarting of Samarco's operations, previously expected for 2020
While the direct impact on production and earnings is likely to be modest, the subsequent tailings dam inspections and the remediation costs may be more significant

"All of Vale's tailings dams will be under increased scrutiny, and there is a potential for some suspensions while technical inspections take place"

Production forecasts cut by ~18Mt in 2019 and by ~10Mt over the medium term
2019 and 2020 EPS estimates lowered by 5% and 4%, respectively
Stock downgraded to neutral from outperform
UBS, Andreas Bokkenheuser
It remains unclear whether production/logistics will be impacted
"What's the overhang risk to the timing of Samarco's restart?" is one of investors' questions
Neutral rating; PT $15