CanSino's 23% Stock Slump Shows Perils of Chasing Vaccine Hype
(Bloomberg) -- The air has suddenly come out of a rally in a biotech firm that's been working with China's military to develop a coronavirus vaccine.
CanSino Biologics Inc. tumbled as much as 23% in Hong Kong trading on Thursday afternoon, erasing an earlier 16% surge. The stock had almost tripled since announcing on March 4 it was in the process of developing a vaccine. The rally accelerated after the company said on Monday Canada approved its clinical trial application for a vaccine.
The sudden reversal underscores the risks in chasing the most popular theme this year -- vaccine producers. Moderna Inc. slumped from a record in New York trading earlier in the week as investors digested early data from a small trial of the company's coronavirus vaccine, as well as a $1.3 billion stock sale.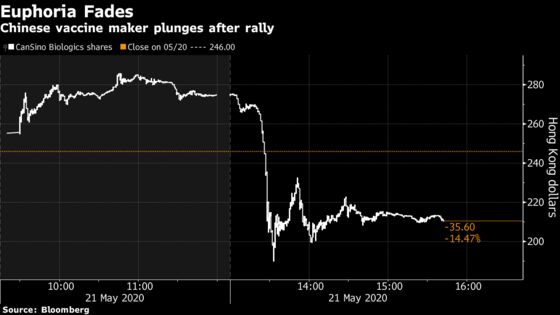 Some traders said a series of large transactions may have triggered the selloff in CanSino, with at least 17 trades comprising more than 10,000 shares each changing hands in the afternoon. Eli Lilly & Co. is the company's biggest shareholder with a 15.5% stake, according to an April filing.
The firm listed in Hong Kong in March last year, raising $160 million in a heavily oversubscribed initial public offering. It developed the first Ebola vaccine approved in China for emergency use and national stockpile, it said at at the time. The company has a current market value of $6.1 billion.
CanSino made no revenue in 2019, according to a March exchange filing. Its operating loss was about 200 million yuan ($28 million) last year.
Other biotech firms have rallied in Hong Kong as the coronavirus spread across the globe. Viva Biotech Holdings has jumped 65% this month, while Shanghai Junshi Biosciences Co. has surged to a record. Innovent Biologics Inc. slumped nearly 10% on Thursday after jumping almost 80% since mid-March.
CanSino didn't immediately reply to emails sent to its investor relations and press departments seeking comment on the stock move. An external representative said she couldn't immediately comment on behalf of the company.
"No one knows how much CanSino is worth," Castor Pang, head of research at Core Pacific-Yamaichi International Hong Kong, said before the afternoon plunge. "People are making bets on the success of its vaccine, but the trial is just in stage two and there is possibility for it to fail."
CanSino shares were last down 14%, ending a 10-day winning streak. Its 14-day relative strength reached 89 on Thursday morning before the rally reversed. More than 70 indicates sentiment is overheated on a stock.