Up $1.4 Trillion, China's Stock Rally Is Nearing a Big Hurdle
(Bloomberg) -- The stunning surge in Chinese equities has traders talking about the Shanghai Composite at 3,000 points again, with two whipsaw sessions underscoring the importance of that key level.
For the second day in a row the equity benchmark got within a few points of 3,000 before rapidly giving up gains. The line was previously a longstanding support and is just below two key Fibonacci retracement levels -- from its 2015 and 2018 highs -- that are closely watched by short-term traders.
The 3,000 level is the "strongest resistance standing in our way," said Kang Chongli, an analyst at Lianxun Securities in Beijing. "A substantial breakout from this line would be an important sign of a bear to bull reversal."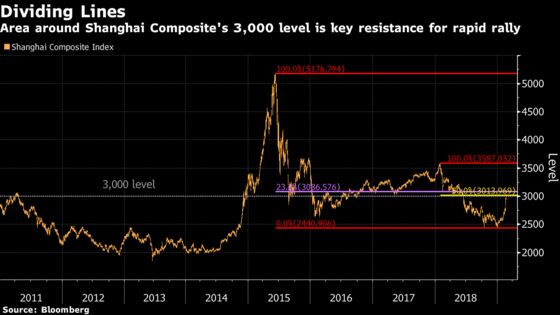 The gauge closed up 0.4 percent at 2,953.82 on Wednesday, after rising as much as 1.9 percent to 2,997.49. On Tuesday it climbed as much as 1.2 percent to 2,995.68 before ending 0.7 percent lower.
Rising above that level could trigger new inflows into a stock market that's already added more than $1.4 trillion since Jan. 3, a staggering turnaround after last year's heavy losses. Sentiment has swung from outright pessimism to growing euphoria as traders bet on a trade deal with the U.S. and President Xi Jinping signaled that the government will focus on stimulating growth instead of trying to cut leverage in the financial system.
"3,000 is not the end of the road, but the start," said Kaiyuan Securities Co. analyst Yang Hai.
The Shanghai Composite Index has traded below the 3,000 level for the past eight months amid concern about trade tensions with the U.S. and an economic slowdown -- the longest stretch since 2014. The line was previously breached during market crashes in 2015 and 2016 and had been seen as a level defended by state-backed funds.
Not everyone believes 3,000 remains a relevant level. Yu Aibin, fund manager at Shenzhen Jointfull Capital Management Co. says the more important figures to watch are credit data.
New yuan loans jumped by a record 3.23 trillion yuan ($481 billion) in January, exceeding estimates, while shadow financing rose for the first time in 11 months. Margin debt in the stock market surged over the past two weeks at the fastest pace since 2015.
"This rally was caused by increased liquidity," said Yu. "Now that more credit is available, we should not let ourselves be constrained by numbers."
Chen Jihao, partner at Beijing Gaoxi Asset Management Co., is more cautious. He's been reducing his long position in equities as the gauge approached the key level. He attributes the recent surge to steps taken by the new securities regulator Yi Huiman, who's been removing curbs designed to keep out speculators.
"We are up 20 percent in a few weeks chiefly because of Yi," Chen said. "The day we surpass 3,000 would be the real start of the bull market."