Unplanned Urbanization May Lift India, Indonesia Consumer Shares
(Bloomberg) -- Regular folk are better at building cities than the governments of India and Indonesia, and consumer stocks may be the best way for investors to play this theme, according to Bank of America Merrill Lynch.
Urban migration is a major long-term opportunity for stock investors in two of Asia's fastest growing economies, Sanjay Mookim, India and Southeast Asia strategist at the brokerage, said in an interview in Singapore on Monday. Mumbai-based Mookim remains tactically underweight on the two nations' equities overall for the next three to six months due to high valuations and market volatility.
In contrast to unplanned urbanization, government efforts to create cities, jobs and thus better incomes for Indians and Indonesians have lower odds of success due to the countries' massive current account deficits, rules around private ownership of land and welfare schemes, he said.
"Unplanned urbanization, and then government spending resources to fix it, will happen," he said. This will in turn raise productivity and incomes, which will cause a shift in consumer preferences to premium products, Mookim said.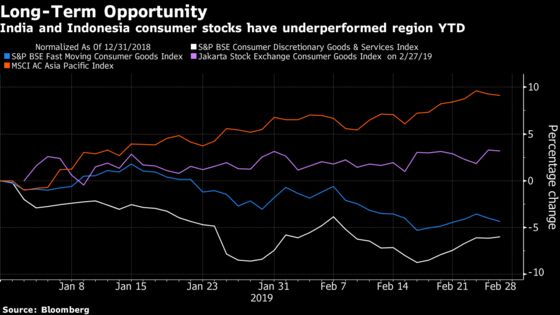 Another factor seen supporting this "premiumization" of consumption is the sheer size of the workforces in India and Indonesia. "There is very strong correlation of growth in an economy with the proportion of working age population," Mookim said.
Standard Chartered Plc forecasts that India's economy will surpass that of the U.S. by 2030, with Indonesia cracking the global top 5 in that same span. The two Asian countries together with China will account for three-quarters of new urban dwellers by 2030, according to an Economist Intelligence Unit report last year.
Consumer-related stocks have underperformed broader equity gauges in these Asian emerging markets so far this year. Still, the S&P BSE Fast Moving Consumer Goods Index is trading at 32 times expected 12-month earnings and the Jakarta Consumer Goods Index at 27 times, both just under double the valuations for their respective country benchmarks.
While the BofAML strategist sees most stocks in the Indian and Indonesian consumer sectors as "super expensive at the moment," he sees opportunities in shares of companies in the processed food and apparel fields based on the significant room to upgrade consumers to premium products. The currently high valuations mainly reflect only the rise in multiples among global peers rather than their own unique growth prospects, Mookim said.
"If I get an opportunity to buy these stocks cheaper, the growth in itself should be attractive," he said.