University of Pennsylvania Gains 12.9% Fueled by Private Equity
(Bloomberg) -- The University of Pennsylvania posted a 12.9 percent gain, the second Ivy League school endowment to report double-digit performance with the help of alternative investments.
The fund's value rose to a record $13.8 billion in the 12 months through June 30, the Philadelphia-based school said Thursday in a statement. Dartmouth College said this month it gained 12.2 percent as its endowment reached a record $5.5 billion. The six other Ivy League schools haven't reported results yet.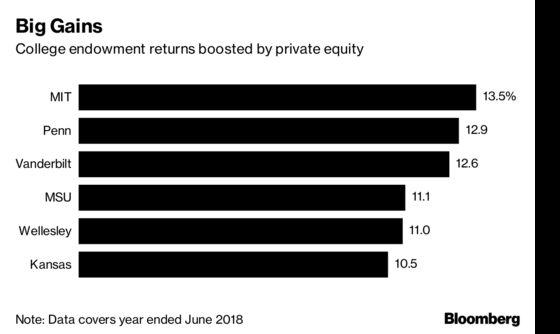 Other elite schools have reported gains driven by strong private equity and venture capital returns, such as the Massachusetts Institute of Technology.
"Returns across equity-oriented asset classes were strong, with private equities producing particularly notable performance," the University of Pennsylvania said in the statement.
The returns compare with an average 8.3 percent gain for 143 endowments of all sizes in the period, according to preliminary data by Cambridge Associates.
Penn's endowment is overseen by Peter Ammon, the chief investment officer since 2013 who trained under Yale University endowment CIO David Swensen.