Universal Robina, LT Beware: San Miguel Food Share Sale May Hurt
(Bloomberg) -- San Miguel Food and Beverage Inc.'s $619 million share sale may bring more pain to other Philippine peers.
Analysts say the sale would more than double the supply of San Miguel Food stock available for trading, attracting investors who so far have steered clear from it because of a lack of liquidity. That could mean they'd dump other consumer-staples companies such as Universal Robina Corp. and LT Group Inc. to raise cash for San Miguel Food.
"Many clients are interested, and most are looking at switching rather than use new money to buy the stock -- particularly when the market is ugly," said Rachelle Cruz, an analyst at AP Securities Inc. "Even when times are good, a sale this big is accommodated usually at the expense of other stocks," she said.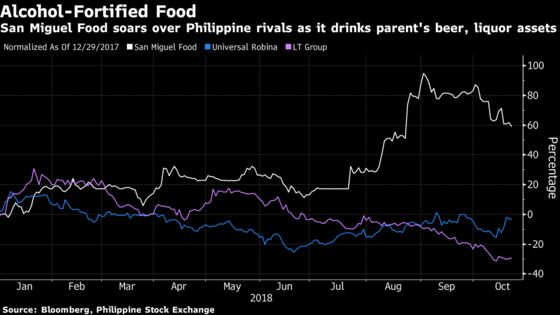 San Miguel Corp. has started taking orders to trim its 95.9 percent stake in San Miguel Food after cutting the offering size and price amid a market slump. The sale, coming about a year after the parent company started merging its food and drinks ventures, will expand San Miguel Food's public float to at least 10 percent from 4.12 percent of total outstanding shares -- currently the least among Philippine peers.
The selling price range indicates a valuation of 22 to 25 times estimated profits in the next year, cheaper than rival Universal Robina's 28, according to data compiled by Bloomberg. The stock could then also be included in the nation's benchmark Philippine Stock Exchange Index and even in global equity gauges should San Miguel make more shares available. That would add pressure on other consumer peers that have sunk this year on concern that higher inflation and a weaker peso will squeeze margins.
"This is not only about buying the biggest Philippine consumer company at a lower price," said Gerard Abad, the chief investment officer at AB Capital & Investment Corp. He's considering adding to his San Miguel Food holdings. "Based on earnings outlook, return on equity and valuation, San Miguel Food now stands out as the safest among consumer plays."
Rizal Commercial Banking Corp.'s Reginald Reyes says switching from Universal Robina and LT Group may mean missing out on gains in the short term -- the decline in Universal Robina's coffee sales is slowing, while LT Group's cigarette venture is now able to increase prices after a state clamp down on smuggling and illicit trade. Still, down the line he prefers San Miguel Food.
"I am still more bullish on San Miguel Food versus other consumer companies because it has more growth potential over the long term," said Reyes, a trader at Rizal. "There are more short-term opportunities from those two other names because of their recovery stories, while one will wait longer for San Miguel Food as the market digests the share sale."