Unilever Plc Holders Refusing to Go Dutch Get Their Way
(Bloomberg) -- In recent weeks, Unilever Plc shareholders grew increasingly vocal about their opposition to a plan to scrap the company's dual listing and consolidate in the Netherlands. It wasn't just patriotism that got in the way -- the pressure of potentially being a forced seller of the shares didn't help either.
With Unilever only domiciling in the Netherlands -- where their listing traces its roots to the 1920s -- it was going to be booted from the benchmark FTSE 100 index in the U.K. That would have forced index-tracking investors to sell, and not at a moment of their choosing, a circumstance few investors welcome. Shareholders were also concerned about a protectionist trend in the Netherlands that may have limited takeovers.
"We would feel the brunt of the selling pressure," Robert Lloyd, fund manager at Blue Whale Capital which owns about 2.6 percent of Unilever shares, said in a phone interview. "It would potentially drive the share price down in the near term, which would be obviously unhelpful for our investments and our fund."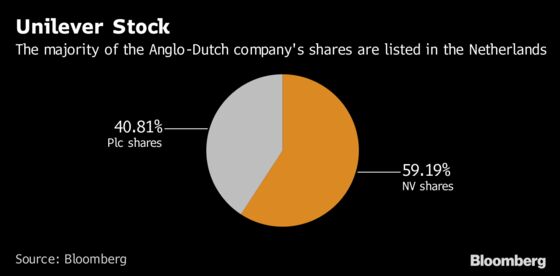 At least seven investment firms including Columbia Threadneedle, Legal & General Investment Management and Schroders had also opposed the move.
"We are pleased with Unilever's decision to halt its proposed plans," Iain Richards, head of responsible investment at Columbia Threadneedle, said in an e-mailed statement on Friday. "Better approaches are possible."