Markets Are a Pain for Europe's Biggest Loser of the Year
(Bloomberg) -- With Europe's equities market in a particularly unforgiving mood on Thursday, the year's worst performer on the Stoxx 600 index was shown little mercy.
Shares of Indivior Plc, the London-based maker of opioid addiction treatments, dropped as much as 15 percent to a record low of 80.06 pence. That extended its drop for 2018 to almost 80 percent, equating to a 2.4 billion-pound ($3.1 billion) loss of value.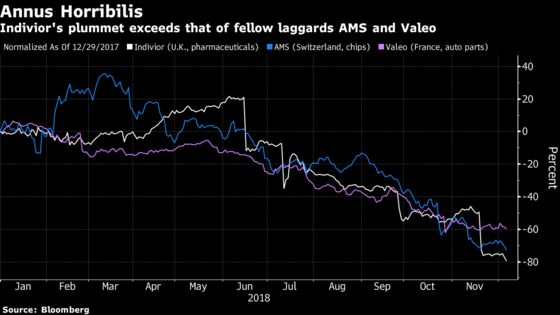 Indivior has been plagued by fears that a rival's copycat drug will end the dominance of its Suboxone film treatment. Those concerns multiplied last month when a court ruling opened the door for Dr. Reddy's Laboratories Ltd. to begin sales of a generic.
Hopes that Indivior might be able to shift patients onto its newer product, Sublocade, have also suffered a blow as prescription growth was hindered by a reimbursement model deemed unfavorable by doctors.