Under Armour Analysts Eye Margins for Proof Efforts Paying Off
(Bloomberg) -- Under Armour Inc. will report fourth-quarter financial results pre-market Tuesday. Analysts largely expect the quarterly report and the 2019 forecast to be inline with the forecasts provided at the company's December 12 investor day. Particular interest will be paid to commentary around gross margin, regional sales results, inventory positions, new product innovation and the company's promotional cadence.
Options activity is pointing to a volatile reaction into the earnings release, which isn't uncommon as shares have moved 14.9 percent on average over the last eight reports. Contracts set to expire on Friday are pricing in a one-day move of 12.7 percent.
Current implied volatility is elevated, trading around 148 percent versus a three-month average of 61. Twenty percent of total open interest is scheduled to expire and of those contracts, calls are outpacing puts by almost two to one, indicating a somewhat bullish set-up.
Short interest represented 23 percent of float, according to Markit data, may add to an active session tomorrow.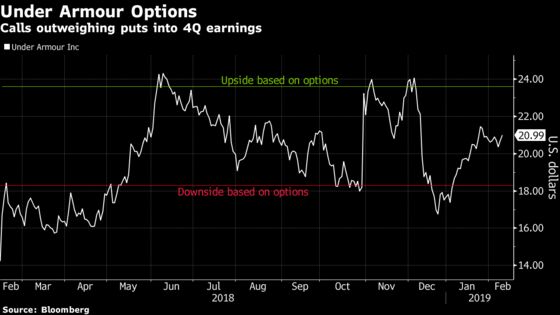 Here's what analysts are watching in the quarterly earnings release:
Expect UAA to meet or exceed firm's 4Q revenue (slightly above consensus) and consensus-matching adjusted EPS estimates and reiterate 2019 forecasts, although Stifel expects upward potential as year progresses
Focus will be on 4Q details including regional trends, gross margins and inventory positions
Remains bullish, particularly on opportunities for gross margin recovery and upside to preliminary expectations for 60-80bps y/y expansion; rate buy, price target $30
Piper Jaffray, Erinn Murphy
4Q release will be an opportunity to revisit key themes from the Investor Day: improving gross margin dynamics; better segmentation; return to growth in North America & innovation (particularly in footwear)
Checks point to lower promotional activity vs last year; saw newness hit floors & online last week, Curry 6 was "almost completely" sold out of the Black/Yellow colorway at UA.com and Foot Locker
Expects 2019 EPS view of 31c-33c to move higher throughout the year, and sees room for revenue and operating margin upside; rates overweight, price target $30
What Bloomberg Intelligence is saying:
"Recent results suggest Under Armour is correcting operational issues of the past two years, yet we haven't seen evidence that demand for the brand is improving. The company debuted footwear for the growing performance-running segment, but high January discounts suggest 2019 began with excess inventory and margin pressure."
--Chen Grazutis
Telsey Advisory, Cristina Fernandez
Focus will be on 1Q outlook and the "flow of sales and operating margin improvement through 2019 in light of product launches and lapping off-price sales last year"
On call, looks for update on 2019 product pipeline, particularly around planned growth and distribution for the new HOVR footwear line that launched February 1
Supply chain initiatives (40% less SKUs), fewer promotional days, improved product costs and cleaner inventories should aid margins
But given stock's premium valuation, higher North American sales growth is needed for the shares to appreciate from here; rates market perform, PT $21
William Blair, Sharon Zackfia
Expects 4Q sales decline of about 4% in North America, a low-double digit increase in international; direct-to-consumer sales should outpace wholesale (up low- to mid-single digit versus a low-single-digit decline in wholesale)
Adjusted gross margin should expand 170 bps y/y to 45% on product cost favorability and lower planned promotional activity, partly offset by inventory management actions
Expects 2019 guidance will be reiterated; for 1Q, expects low-single-digit revenue growth to yield break-even EPS as improved gross margin will be largely offset by higher SG&A inclusive of increased marketing expenses
Rates market perform
B.Riley FBR, Susan Anderson
Lack of innovation makes it difficult to drive sales, and UAA hasn't shown any "major" new innovation for 2019
UAA's booth at the Outdoor Retailer Show last month did not reveal any new innovation and continued to rely on historical innovation such as Reactor and Cold Gear
Rates sell, price target $12; believes UAA's "lofty 5-year outlook is already more than priced into the stock" and "skeptical" about UAA's ability to deliver on these turnaround goals
4Q adjusted EPS estimate 4c (range 0c-7c)
4Q revenue estimate $1.38 billion (range $1.34 billion to $1.43 billion)
4Q gross margin estimate 44.7% (range 43.7%-45.2%)
1Q adjusted EPS estimate 3c (range 2c loss to 4c EPS)
1Q revenue estimate $1.21 billion (range $1.17 billion to $1.26 billion)
1Q gross margin est. 45.5% (range 44.3%-46%)
2019 adjusted EPS estimate 33c; forecast 31c-33c (Dec. 12)
2019 revenue estimate up 4% to $5.37 billion; saw up 3%-4%
2019 capex estimate $222.8 million; says ~$210 million
Shares rose after 7 of prior 12 earnings announcements
Beat or met EPS estimates in 10 of past 12 quarters
UAA has 8 buys, 17 holds, 9 sells, avg PT $21: Bloomberg data
Short interest 21% of shares outstanding, 52-week high 37% in April, low 21% on Feb. 7: Markit data
UAA +53% in past year vs NKE +27%, SPX +3.43%