Ultra-Short Term Treasury ETFs Lure Buyers Amid Rising Rates
(Bloomberg) -- Investors are snatching up ultra-short Treasury bonds as they race for safety.
With markets hitting all-time highs, investors are increasingly dumping cash into the Goldman Sachs Access Treasury 0-1 Year ETF, or GBIL, and the SPDR Bloomberg Barclays 1-3 Month T-Bill ETF, or BIL, both of which track short-term U.S. government debt. GBIL's assets have soared past $2 billion for the first time as a record $220 million flowed into the fund on Tuesday, following $145 million on Monday. And both ETFs have seen their average daily volumes spike this week.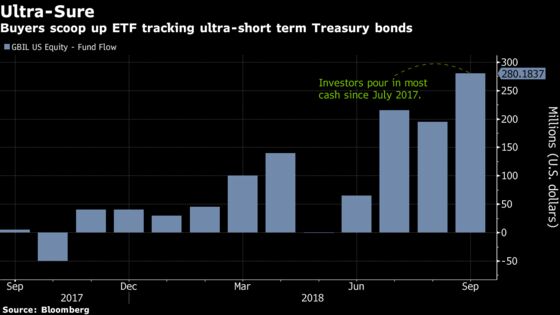 As interest rates rise, investors gravitate toward the shorter end of the yield curve. GBIL's average duration is about four months, which makes it a "sweet spot" for earning a reasonable yield without taking on credit exposure, said Michael Crinieri, global head of ETFs at Goldman Sachs Asset Management, the issuer behind GBIL.
"There's a bit of a risk-off aspect to the story right now," Crinieri said. "We are seeing some investors trim equity positions, and some of them are viewing this as 'let's have some dry powder and be ready to deploy' opportunities."
Others believe investors could be using the funds to park cash while they assess their next re-allocation moves.
"Stocks are at their highs," said Mohit Bajaj, director of exchange-traded funds at WallachBeth Capital. "Investors are willing to take profits as we get closer to year-end and keep in these shorter-duration investments."
Both GBIL and BIL are purely cash-parking plays given their ultra-short term maturities, Bajaj said. The two strategies hold U.S. Treasury bonds with maturities of a year or less, with those in BIL maturing from one to three months.
"You only buy those ETFs if you want to take money off the table," said Bloomberg Intelligence analyst Eric Balchunas, who described them as "the equivalent of putting your money under a mattress."