UBS Warms to Italy Bonds as Allianz Sees Budget Panic as 'Crazy'
(Bloomberg) -- A trio of funds backed by $3 trillion in global assets reckon the recent sell-off in Italian bonds is overdone.
UBS Wealth Management is buying into the weakness in the nation's debt, along with Allianz Global Investors and Nomura Asset Management. The surge in Italian bond yields is a reflection of a market in fear, which will be forgotten noise in a few months for Allianz.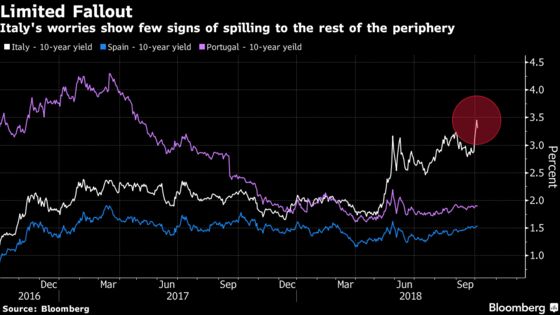 "The move is completely crazy," said Kacper Brzezniak, a portfolio manager at Allianz, whose firm overseas 524 billion euros ($605 billion) in assets globally. "It's driven by fear, liquidity and stop-losses. Those are the exact times when investors can step in and get good, long term returns."
Allianz has positions in short-dated bills up to a maturity of one year, as well as bonds in the five- to 10-year part of the curve, and is looking to add some upside exposure via options on futures, Brzezniak added.
Italy's sovereign debt has seen the worst slump this year among developed markets, with benchmark yields touching the highest since March 2014 this week. Ten-year yields rose three basis points to 3.34 percent on Thursday. Italy and the EU have continued to spar despite a partial climb-down on deficit targets by the populist coalition in Rome.
UBS Wealth, with over $2 trillion in assets, started an overweight position this week in two-year government bonds versus cash given there's "only a very low probability" of a debt default within the next couple of years, according to Chief Investment Officer Mark Haefele. While he remains cautious on longer-term Italian debt, Haefele said the recent sell-off presents an "attractive" opportunity.
Not everyone is buying into this optimism. James Athey, a money manager at Aberdeen Standard Investments, said he's still short on Italy as the populist coalition's 2.4 percent deficit target was made on "aggressive" assumptions while growth was slowing.
"It's difficult to see where the good news comes," London-based Athey said. "Given the EU commission has already taken a belligerent tone, the potential for entrenching positions and aggressive rhetoric is high. I expect the agencies to downgrade Italy's rating."
For the bulls such as Nomura's Richard Hodges, the lack of contagion means he remains a buyer. He is long six-month and one-year Italian debt but is gradually rotating further out into the three-year space. Nomura manages $480 billion of funds.
"Elsewhere the periphery seems to show that this is isolated and specific to Italian budget expectations," said Hodges, whose Global Dynamic Bond Fund has outperformed 91 percent of its peers in the past year. "I would certainly buy into this weakness and take advantage of the recent flattening."
Just a few months ago talks of Italy issuing a parallel currency, leaving the euro and targeting a deficit of more than 3 percent swirled in markets. So the reaction on getting 2.4 percent instead of the predicted 2 percent "makes no sense" to Allianz's Brzezniak. He also sees the EU being more politically savvy as they'd be unwilling to take on another fight with Brexit deadlines fast approaching.
"This is all noise," he said. "I would be amazed if this was still an issue in a few months."