UBS Sees Korean Won Catching Up With Kospi Rally and Dollar Drop
(Bloomberg) -- South Korea's won -- one of Asia's worst performing currencies this year -- could strengthen following a rally in local stocks and a slump in the U.S. dollar, according to UBS Group AG.
The won's gains since the end of April have been modest compared with the Kospi's advance and the greenback's weakness, the bank wrote in a note. South Korea's currency has climbed about 2% versus the dollar since April 30, while the nation's equity benchmark has rallied 13%. Deutsche Bank AG's trade weighted index for the dollar has dropped more than 2.5% during that period.
Factors that had held back the won are starting to improve, UBS said. South Korea's trade balance likely bottomed after falling in April to its lowest since the global financial crisis, while expectations of a rebound in tech exports should strengthen the relationship of the currency with the Kospi, according to UBS.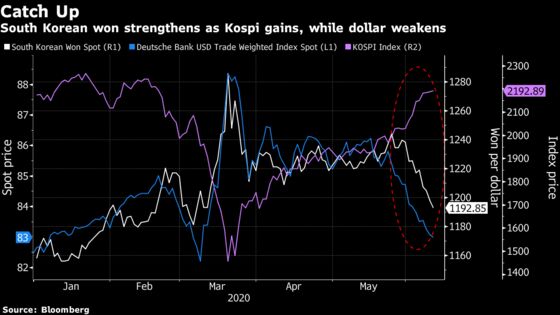 "Korean won's historical sensitivities to KOSPI and USD TWI suggest that the won should have been at 1,150 by now," UBS analysts including Rohit Arora wrote. "The drivers of Apr-May underperformance are gradually abating, we think, and we see scope for regional outperformance ahead."
The won headed for a four-day gain on Wednesday, advancing 0.4% to 1,193.40 against the dollar as of 12:38 p.m. in Seoul.