UBS Sees Asia Luring Yield Hunters, U.S. Stocks Lagging in 2021
(Bloomberg) -- Investors searching for yield should look to Asia and emerging-nations' debt next year, while in the stock market U.S. equities are set to lag behind global shares, according to UBS Global Wealth Management.
Emerging market dollar-denominated sovereign bonds, Asia high yield and select debt with a chance of being raised to investment grade should deliver positive real returns, Chief Investment Officer Mark Haefele wrote in a 2021 outlook. UBS recommended diversifying out of low-yielding cash and bonds, and flagged selling volatility and employing leverage as routes to income.
"We expect the more economically sensitive markets and sectors, many of which underperformed in 2020, to outperform in 2021," Haefele wrote. "Investors should diversify for the next leg higher in equities by thinking global, looking for catch-up potential, and seeking long-term winners."
UBS's outlook for a rebound from coronavirus-induced economic and market stress dovetails with forecasts from the likes of Morgan Stanley, which earlier this week said investors should "trust the recovery" in 2021. Goldman Sachs Group Inc. and JPMorgan Chase & Co. predict further equity gains next year.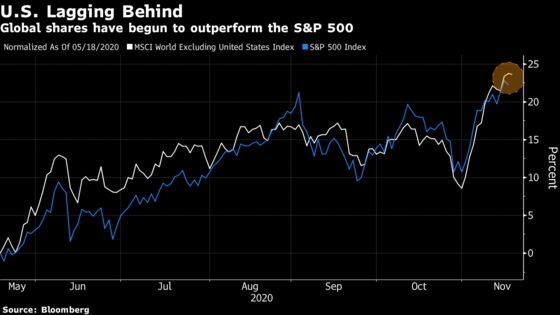 Since the start of September, a gauge of global shares excluding the U.S. has climbed about 6%, exceeding the 3% rise in the S&P 500 Index.
U.S. underperformance "is already happening," Min Lan Tan, head of the Asia-Pacific chief investment office at UBS Global Wealth Management, said on a conference call about the report. "So much of the attention was on the U.S. market because of the megacap stocks. The vaccine news itself was a powerful catalyst for investors" to look at other markets and sectors, she said.
UBS also expects higher deficits to weaken the U.S. dollar, and recommends investors should diversify across G-10 currencies or into select emerging-market currencies and gold.