UBS Says Markets Poised for a Positive 2019, But Risks Abound
(Bloomberg) -- Global markets are broadly poised to extend gains through 2019, though the bullish phase is drawing to a close and there's a significant risk the cycle could turn next year, according to UBS Group AG.
Macro imbalances remain low around the world, inflation is under control and global financial conditions are loose, all factors that contribute to the 70 percent probability UBS assigns to expansion through the end of next year, strategists led by Yianos Kontopoulos wrote in a note Monday. But as implied by the title of their note -- "Something Wicked This Way Comes?" -- they see growing risks to the fairly benign outlook.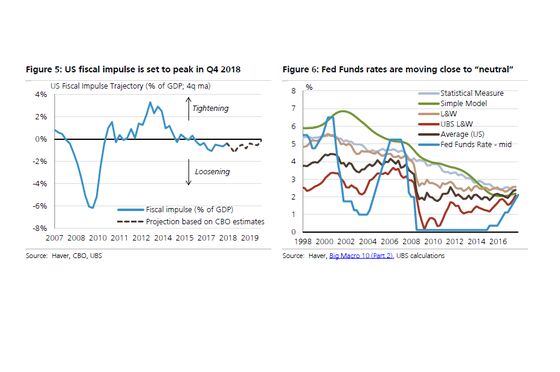 UBS outlines four major challenges for global assets:
The probability of a transition to "a more sinister phase" of the U.S. economic cycle is increasing, with fiscal stimulus set to peak in 2018, interest rates seen rising above neutral and possible re-emergence of trade risks
Core inflation in the U.S. is likely to persist at elevated levels as European core inflation begins to accelerate.
As the Fed goes beyond neutral rates, policy normalization is likely to take hold across the world's other major economies.
A welcome shift in the China policy mix involves higher currency risks.
A potential U.S. slowdown won't be enough to drive equities lower, but volatility is expected to increase, the strategists said. They see higher global yields ahead, an expensive U.S. dollar, persistent challenges for emerging markets and structural risks in credit.
"What is the risk of a transition to the next, final and more sinister phase of the cycle?" the strategists asked. They see it as around one-third now. Factors that could boost the probability of such an event to around 50 percent, they said, include:
An increase in Fed Funds rate in excess of 125 basis points
A 200 basis-point acceleration in headline inflation over a one-year horizon
A "sticky" 10 percent drop in real equity returns
A 200 basis-point acceleration in credit growth above recent trend
A 0.75%-of-GDP deterioration in the U.S. current account balance