UBS's Wealth Quant With $30 Billion Is Cooling on Stocks
(Bloomberg) -- A $30 billion computer entrusted by some of the world's richest looks poised to underweight stocks as real money and systematic investors pare risk amid flagging bull-market momentum.
The quantitative-investing platform run by UBS Group AG's wealth-management arm is close to trimming its equity holdings to 20 percent from a neutral 50 percent, according to Andreas Koester, head of global asset allocation at UBS Wealth, which oversees $2.4 trillion in total.
After slicing and dicing a slew of signals from GDP, PMIs, corporate earnings and retail sales, the so-called Systematic Allocation Portfolio is mulling the relative safety of cash and high-quality bonds over growth-sensitive assets.
Bearish signals from the data-crunching robot echo fresh warnings on Wall Street about the global economic trajectory while quant peers like commodity trading advisers ease up on U.S. stock allocations.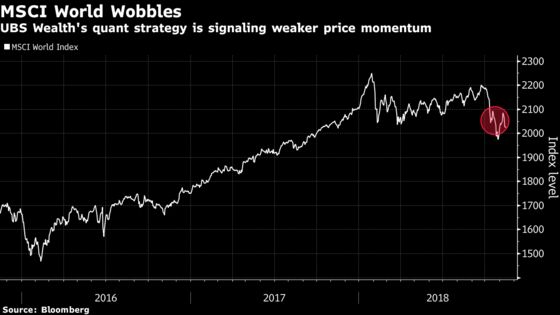 "At the moment, the momentum signal is strongly negative," said Koester in an interview. "While the economy is doing fine, the market is worried about something else, and you can argue that it might be protectionism, oil prices, fear of a recession in 2020."
Battered by trade wars, valuation fears and rising rates, equities slumped to their worst month in seven years in October despite relatively robust global data.
It's enough to frighten human traders as well as automated trading strategies.
The quant strategy from the Swiss institution looks at economic as well as equity and credit indicators to help determine whether to overweight or underweight shares in the MSCI World Index. By design, the bot launched in 2015 isn't as sensitive as those run by quant investors like CTAs, which respond to hair-trigger moves with breakneck speed.
"This is more like timing the big cycles right," said Koester, who wouldn't comment on the strategy's performance or fees. "It's not for being in and out every second week."
The platform has a shorter-term horizon than UBS's house view, however, with the latter focused on the six to 12 month outlook and overweight global shares.
Quant mandates like SAP -- a collaboration between UBS's asset and wealth divisions -- are in hot-demand from the younger generation of rich investors enamored by big data as a way to extract alpha, said Koester.
Geneva-based Pictet Wealth Management with $189 billion started pulling money from hedge funds last year in favor of the cheaper factor-investing strategies pursued by quantitative investors.
"We see clients getting a higher affinity for data-based strategies than 20 years ago, when you wanted a wise man with gray hair and a beard to make decisions," said Koester.