UBS's Trahan Sees `World of Trouble' for Stocks on Earnings
(Bloomberg) -- Stocks vault to a record smack in the middle of earnings season. Everything's fine, right? No, say strategists at UBS Group AG.
A deterioration in earnings expectations is likely to get worse and poses the biggest threat to U.S. equities, strategists led by Francois Trahan wrote in a note. UBS says the expected rate of 12-month earnings growth will turn negative in the coming months.
"There are many ways to assess the health of S&P 500 earnings, but at this stage no matter how you slice it, the trend is slowing," the strategists wrote in a note titled "If History Were A Perfect Guide...Stocks Would Be In A World of Trouble Here."
The firm's bearish case on earnings is built on a pattern where economic indicators and earnings growth tend to follow the cycle of interest rates. While the Federal Reserve is in easing mode now, last year it wasn't, and its rate hikes have yet to fully be felt by businesses. In UBS's estimation, the economy should bottom two years after the end of a hiking cycle -- in November 2020, a timeline that puts an earnings rebound after the second quarter of next year.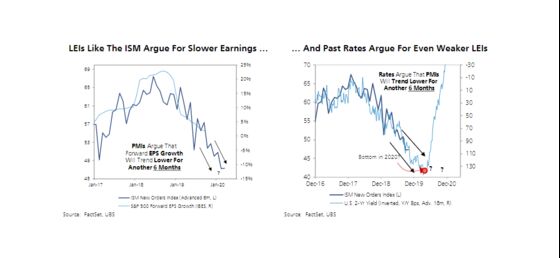 It's ominous for U.S. equities, which have remained resilient this year in the face of headwinds including weakening economic data. Third-quarter GDP, for instance, is supposed to show the U.S. economy grew 1.6%, down from the 2% rate in the prior quarter.
In spite of that, third-quarter results have hung tough, helping to push U.S. stocks to an all-time high on Monday as companies continue to post better-than-expected growth. About 80% of firms that have disclosed results beat forecasts so far, according to Bloomberg Intelligence data. S&P 500 companies are now expected to report a 2.8% earnings decline compared with year-ago levels, outperforming forecasts from the beginning of the reporting season. Some analysts expect that number to firm up before the season's over.
Yet estimates for the fourth quarter are swiftly coming down. Analysts expect S&P 500 company profits to expand by 1% in the current period, data compiled by Bloomberg show. That's down from 3.3% just a month ago. For this year, analysts see profits growing 1.7%.
For UBS, earnings expectations for the S&P 500 are closing in on turning negative, the strategists wrote, and expectations for small- and mid-cap indexes are already there. Take, for instance, the number of companies with negative EPS growth, which has more than doubled since the beginning of the year to 160 from 68, according to UBS.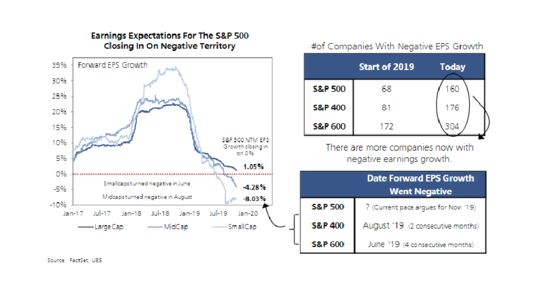 It spells trouble for U.S. markets -- across history, a contraction in earnings has been a key catalyst to bear markets, wrote the UBS strategists, and theirs isn't the only firm to ring this warning bell.
Several recessions have not been accompanied by bear markets, as was the case in 1960 and 1980, for instance, according to Dan Suzuki, a portfolio strategist at Richard Bernstein Advisors. And several bear markets were not accompanied by recessions, as happened in 1987, he wrote in a note this week. But there's never been a bear market that didn't occur within six months of a profit recession.
"We see a better than even chance of a profit recession in the coming quarters alongside indications of shrinking liquidity," he said. "That's generally not a good sign for markets."