UBS Cuts S&P 500 Target, Though Still Sees a Bounce
(Bloomberg) -- With repeated rallies in U.S. stocks failing to take hold, UBS Group AG joined other Wall Street firms in scaling back its optimism.
Keith Parker, the bank's head of U.S. equity strategy, reduced his year-end forecast for the S&P 500 to 2,875 from 3,150, citing a faster-than-expected contraction in stock valuations. While a cooling in U.S.-China trade tension may help fuel a December rally, more record highs are unlikely until next year. He predicted the index will finish 2019 at 3,200, up about 19 percent from now.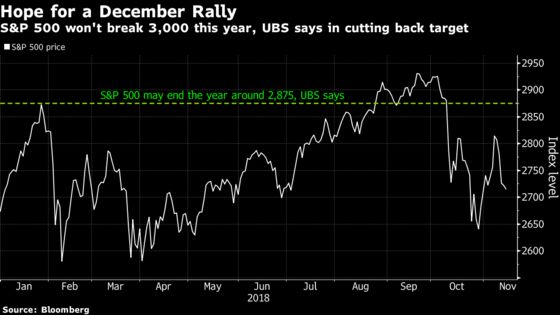 Hopes for another banner year are fading after the S&P 500 suffered its worst month in seven years and two attempts to bounce back lost steam around the 2,715 level. At least two other strategists have toned down enthusiasm in recent weeks. Ed Yardeni at Yardeni Research Inc. trimmed his 2018 forecast, while Tony Dwyer at Canaccord Genuity pushed his 3,200 call to next year. Up about 1 percent since January, the index is heading for one of the smallest annual returns since the bull market began in 2009.
"Much of 2018 has been about de-risking around increasing risks and uncertainties," Parker wrote in a note to clients. "Trade risks were more than we had expected, and the second order impacts on China and markets have been notable."
At 19 times earnings, the S&P 500 multiple has shrunk from roughly 22 at the start of the year, one of the fastest declines since World War II, UBS data showed. Concerns about global growth and trade tensions are overblown, said Parker, who expected the market's price-to-earnings ratios to return to the historical average. That, along with expected profit growth of 7 percent, will help deliver positive returns next year, he added.
"The multiple is key for market returns, and after a big de-rating in 2018, we are calling for some multiple expansion in 2019 as quite a bit is priced into U.S. equities," he wrote. "No further trade escalation, solid but slowing growth and moderately higher rates underpin our view."
Investors should look for value among cyclical stocks, Parker said. His recommended trades include:
Favor energy stocks over materials for higher dividend yields and a bounce in oil prices.
Prefer communication services, industrials over technology stocks on valuations.
Stay defensive with overweight health-care and underweight REITs and utilities.
Prefer large-cap stocks over small-caps.
Buy the dip in momentum/growth stocks.