U.S. Yield Curve Steepens as Mnuchin Considers Longer-Term Bonds
(Bloomberg) -- The U.S. yield curve steepened after Treasury Secretary Steven Mnuchin said the government is seriously considering extending its debt profile well beyond the current three-decade maximum.
The gap between five- and 30-year Treasury yields widened to 59 basis points, from 56 basis points just before the news broke late Wednesday. The ultra-long bond's rate climbed to 1.97%, reversing a decline that had driven it to a record low of 1.90% earlier in the day.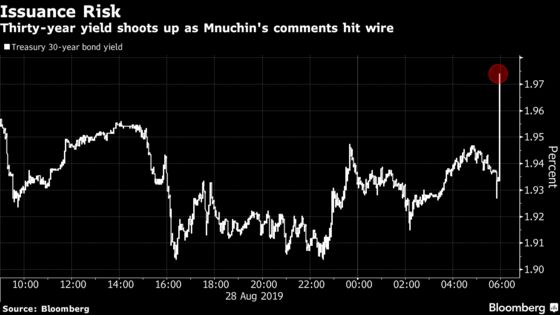 The Treasury Department revealed two weeks ago that it was yet again mulling 50- and 100-year bonds, which would let the government lock in historically low rates for longer. "If the conditions are right, then I would anticipate we'll take advantage of long-term borrowing and execute on that," Mnuchin said Wednesday in a Bloomberg News interview in Washington.
"There was no need for Mnuchin to make remarks that could prompt selling of Treasuries," said Hidehiro Joke, a bond strategist at Mizuho Securities Co. in Tokyo. "He might have tried to lift long-dated yields given that the yield curve inversion is seen as a sign of recession and cools sentiment."
Heavy buying of the 30-year bond has driven the sharpest monthly decline in that yield since 2011, as investors have sought safety from global market volatility in one of the few major government markets offering positive yields.
The idea of ultra-long bonds fell flat when it was last floated in 2017, but this may be an auspicious time to revisit it. The world's spreading pile of negative-yielding securities -- which stands at about $16 trillion -- is driving investors further out global yield curves, in part to finance retirees' longer lifespans.