U.S. Virus Surge Spurs Tilt Toward Asia Asset Allocation
(Bloomberg) -- Parts of Asia look like a better bet for investors than the U.S. because the region has so far proved more adept at coping with the coronavirus pandemic, according to NatWest Markets Plc.
Infections among the Asia-Pacific's 3.8 billion people are at 1.8 million -- less than half the U.S. tally -- and a 3.2% expansion in China's economy last quarter has boosted hopes of a regional recovery. The U.S. likely suffered a deep contraction over the period and faces divisions over how to tackle the virus.
"Asia is a relative winner," Jim McCormick, the London-based global head of desk strategy at NatWest, said in an interview. "It's not a one- or two-quarter story, this is a bit of an inflection point. It's an Asian equity and Asian currency story."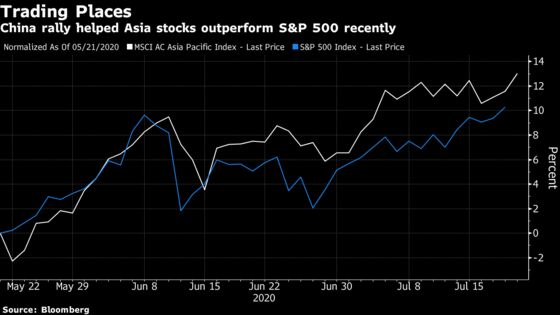 China's assets have stood out in recent weeks as the country contained local outbreaks of Covid-19 and businesses steadily resumed operations. Chinese stocks are among the 10 best performing markets globally over the past two months, and the yuan has strengthened past the psychological marker of 7 per dollar.
The $1.4 billion China Region Fund at Fidelity Investments snapped up "good values" in the spring, the company said in a release Tuesday. Ivan Xie, who helps manage the fund at the Boston-based firm, said one of the targets was a company that provides information technology to the country's airline and tourism industry. China's consumer spending has begun to gradually recover, he said.
While places like Australia and Hong Kong are fighting spikes in coronavirus cases, a number of Asia-Pacific locations have been able to flatten infection curves -- something the U.S. has yet to achieve countrywide.
Better management of Covid-19 reduces the need for "super-aggressive" monetary policy, McCormick said, adding "there's an FX story brewing that the U.S. dollar is set to fall, and fall potentially quite substantially."
He recommends going long on the Australian dollar as China recovers as a way to play the relative resilience story. Risks in the U.S. include stretched equity valuations, fiscal fatigue, a more difficult share-buyback environment and the November election, he said.