U.S. Stocks' Supremacy Signals End of Rally, Says Credit Suisse
(Bloomberg) -- U.S. and global markets haven't been so out of touch with each other in at least 30 years, and this, according to Credit Suisse Group AG, signals that the dominance of U.S. stocks is almost over.
"The performance gap between U.S. and non-U.S. equities is one of the most extreme on record," wrote Credit Suisse analysts, including Andrew Garthwaite, in a note on Thursday. "The period of sharp U.S. outperformance is at an end."
The MSCI U.S. Index is up 9.5 percent this year, compared with a drop of 4.4 percent for MSCI World ex-U.S. gauge. The super-rally in U.S. equities has been fueled by rising profits on the back of tax reform, while the rest of the world has been pummeled by concerns about growth being hurt by tariff wars.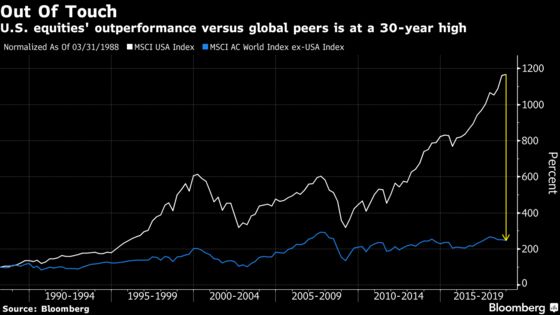 In making the case that global equities can catch up with the U.S., Credit Suisse analysts say that the stronger dollar is likely to be a headwind for U.S. earnings and that the support from tax cuts, buybacks and the oil price is unlikely to last. Credit Suisse remains constructive on equities, favoring overweight positions in global emerging markets and Japanese stocks.
The valuation of U.S. equities compared to the rest of the world is another point of note for Credit Suisse strategists. On a forward price-to-book basis, U.S. stocks are trading at more than double the level of global shares, and this difference is the highest since at least 2005, according to data compiled by Bloomberg.
And Credit Suisse isn't alone in preparing for an end to the U.S. bull run. London & Capital, a U.K. wealth manager that oversees about $4 billion in assets, has been gradually reducing its overweight position in U.S. equities over recent months, citing limited upside to prices.