Stocks Fall While Dollar Rallies After Fed Minutes: Markets Wrap
(Bloomberg) -- Stocks dropped and the dollar rose after the Federal Reserve minutes signaled tempered optimism about growth in the second half of 2020. Treasuries fell as policy makers panned yield-curve control.
The S&P 500 erased gains as the Fed noted the health crisis would "weigh heavily" on economic activity and repeated its view that the path of the recovery would depend on containment of the virus. U.S. central bankers also appeared to back off from an earlier readiness to clarify their guidance on the future path of interest rates when they met in July. Benchmark 10-year government bonds slid after the minutes refrained from citing prospects of changes to the size or composition of the purchases of Treasury securities. The greenback advanced after a five-day rout.
Traders pushed down the value of equities after the S&P 500 closed at a record for the first time since the pandemic started amid ultra-easy monetary policy and massive stimulus measures. The buying stampede fueled debate on whether momentum can be sustained amid lofty valuations and uncertainties over further government relief that could help lift the world's largest economy from a coronavirus-induced recession.
Policy makers are likely more worried about the pace of the recovery "given the stalemate on fiscal stimulus in Washington," said Marvin Loh, senior global macro strategist at State Street. "The Fed will continue to do what it can, but it does feel that fiscal is as important in the recovery process as monetary, and their tools to get funds to Main Street remain constrained."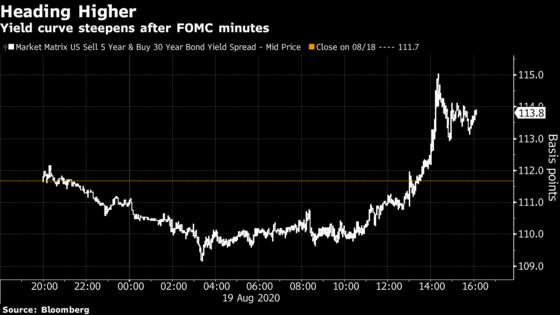 Democratic and Republican leaders are hinting that they are looking for a path toward reviving stalled negotiations on the next round of pandemic relief -- even as both sides remain far from a deal. Any accord is still likely to wait until September despite the fact that the U.S. economy is limping along with many businesses still struggling and millions of Americans out of work.
While policy makers will be on the lookout for signs of inflation, a bigger concern for the Fed is actually deflation as the pace of the economic recovery continues to moderate, according to Adam Phillips, director of portfolio strategy at EP Wealth Advisors.
"The minutes suggested that policy measures like yield curve control and explicit forward guidance aren't guaranteed, and could create some upward pressure on long-term bond yields over the near-term," he said.
Some corporate highlights:
After the close of regular trading, Nvidia Corp. reported revenue for the second quarter that beat the highest analyst estimate.
Apple Inc. made Wall Street history on Wednesday when its 2020 stock surge pushed the market value over $2 trillion, the first time a U.S. company has surpassed that level.
Target Corp. posted record sales and profit last quarter.
Lowe's Cos. reported a strong summer sales pace that beat estimates.
Johnson & Johnson agreed to buy Momenta Pharmaceuticals Inc. for about $6.5 billion to expand in treatments for autoimmune diseases.
Here are some key events coming up:
Results from Alibaba Group Holding Ltd. and Qantas Airways Ltd. are due Thursday.
U.S. jobless claims for the week ended Aug. 15 are due Thursday.
China's loan prime rate is due Thursday.
Euro-area PMIs will be released on Friday.
These are some of the main moves in markets:
The S&P 500 dipped 0.4% as of 4 p.m. New York time.
The Stoxx Europe 600 Index advanced 0.7%.
The MSCI Asia Pacific Index sank 0.5%.
The Bloomberg Dollar Spot Index jumped 0.6%.
The euro sank 0.8% to $1.184.
The Japanese yen weakened 0.6% to 106.08 per dollar.
The yield on 10-year Treasuries increased one basis point to 0.68%.
Germany's 10-year yield fell one basis point to -0.47%.
Britain's 10-year yield advanced two basis points to 0.236%.
The Bloomberg Commodity Index declined 0.2%.
West Texas Intermediate crude fell 0.1% to $42.83 a barrel.
Gold depreciated 3.1% to $1,939.70 an ounce.