U.S. Stocks Enjoy Best Start to the Year in at Least a Decade
(Bloomberg) -- U.S. stocks are enjoying the best start to a year in at least a decade and that bodes well for the so-called January barometer, according to Citigroup Inc.
The first five trading days of January are often perceived as indicative of the month and therefore the overall year's potential, strategist Tobias Levkovich wrote in a note Tuesday. The S&P 500 Index has risen 2.7 percent so far this year.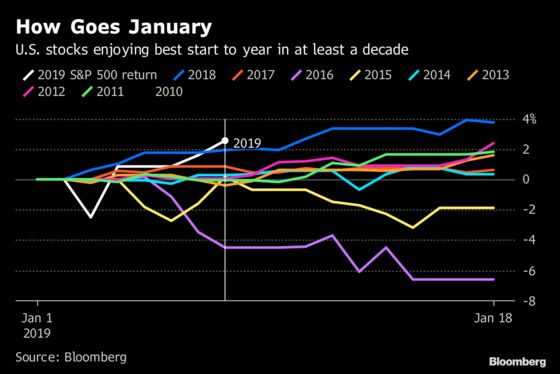 "Given our belief that no U.S. recession is imminent and that trade issues ultimately get resolved, not to mention a more dovish Fed, it appears that there is further upside to share prices," the strategist said.
Data behind the stock market adage show that 80 percent of the time January returns are positive, the S&P 500 Index rises for the year, posting an average return of 13 percent, he wrote, with 2018 being an obvious exception.