U.S. Stock-Index Futures Jump as European Shares Extend Gains
(Bloomberg) -- U.S. stock-index futures climbed to session highs after swinging between gains and losses, following the biggest upward reversal on Wall Street since 2010.
March contracts on the S&P 500 Index gained as much 0.6 percent at 10:45 a.m. in London, after dropping as much as 0.7 percent. Contracts on the Nasdaq 100 and the Dow Jones Industrial Average rose 0.5 percent and 0.6 percent, respectively. The benchmark index for American equities erased a 2.8 percent tumble late Thursday afternoon, finishing the day with a 0.9 percent gain.
European shares extended their gains on Friday, after a mixed session for Asian stocks as traders struggled to make sense of wild price swings in the final sessions of the year. All sectors were in positive territory, as cyclical equities led gains in Europe, with construction materials and technology the top performers in the Stoxx Europe 600 Index. Oil bounced with commodities and emerging-market equities.
"Consensus is firmly set on a 2020 recession, but the question for investors is whether they are willing to stay away from equities for all of next year when the U.S. is still expected to grow, albeit at a slower pace than this year," said Edward Park, a London-based investment director at Brooks Macdonald Asset Management, which oversees about $16 billion. "The current market bounce may have been catalyzed by institutional portfolio re-balancing, however valuation levels seem to be tempting investors to become incrementally more bullish."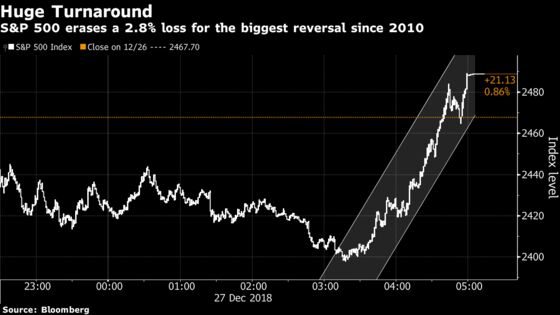 Volatility is likely to continue as markets wrestle between the relative attractiveness of current earnings yields and fears of a Fed-catalyzed recession in 2020, he said.
U.S. stocks are "bottoming out here and there's some real value emerging," said Sean Fenton, a Sydney-based portfolio manager at Tribeca Investment Partners. "To get down from here you need a genuine economic weakness and contraction. From where we're sitting, the U.S. economy looks very robust and the global economy's not too bad."
Friday marked the second-straight day that U.S. stock futures traded lower at the open after the benchmark index had rallied and bounced from the brink of a bear market. Everything from higher interest rates, political turmoil in Washington and concerns about global growth have hammered investor sentiment in recent sessions.
Where stocks head from here is anyone's guess as uncertainty looks set to seep into the first quarter of 2019, said Ben Emons, managing director at Medley Global Advisors. While a bounce is positive news, it's coming with much more volatility -- which normally falls when stocks rally, he said on Bloomberg TV. Among key events next quarter are the Brexit-deal vote in the U.K., a U.S.-China trade-talks deadline and the annual gathering of China's legislature.