U.S. Index Futures Slide as Virus Spread Saps Risk Demand
(Bloomberg) -- U.S. stock index futures slid Monday as investors reacted to the spread of the deadly coronavirus over the weekend.
S&P 500 Index futures contracts expiring in March fell as much as 1.3% as of 8:50 a.m. in London, after China extended the Lunar New Year holiday for an unspecified period of time to help stem the spread of the coronavirus that has killed at least 80 people. Dow Jones Industrial Average contracts for March and the Nasdaq 100 were down 1%.
In Europe, the Stoxx 600 Index dropped by the most since the start of December, with all of the sectors declining, led by miners after major metal prices fell and travel and luxury stocks. Italy's FTSE MIB Index outperformed after Matteo Salvini, leader of the anti-immigrant League party, suffered a defeat in a key regional vote.
President Xi Jinping on Saturday ordered a faster response to the viral outbreak, sending teams into hard-hit areas to push local officials to strengthen prevention and containment.
"Although stock markets remained reasonably calm last week, we believe the full impact on sentiment from fears of the coronavirus has clearly yet to be felt," Amir Anvarzadeh, senior strategist at Asymmetric Advisors in Singapore, wrote in a note. "Given that millions have already traveled across China and indeed to many other countries for the Chinese New Year, the full impact of the contagion will not be known until around mid-February at the earliest."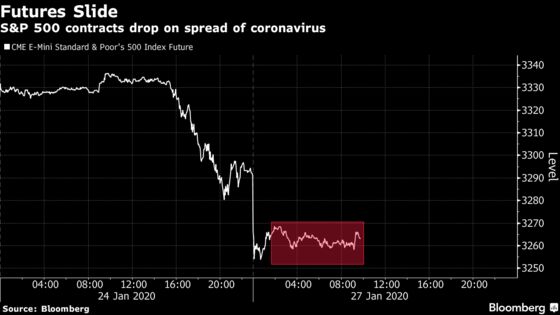 A swathe of Asian markets are shut for holidays Monday including China, Hong Kong, South Korea and Australia. On Friday, U.S. shares posted their biggest drop since October amid reports of new infections around the globe.
"Risk profiles need to be adjusted as the Wuhan frenzy factor kicks in, and risk markets enter the fear zone, a highly pandemic place in its own right," Stephen Innes, chief Asia market strategist at AxiTrader, wrote in a note. "Even more so after President Xi calls the rapid spread of the virus a grave situation."