U.S. Stock Futures Slip With Alphabet as Iowa Results Awaited
(Bloomberg) -- U.S. stock futures ticked lower after Alphabet Inc. reported revenue that missed analyst forecasts and traders awaited results from Iowa's presidential caucuses.
The SPDR S&P 500 ETF Trust slipped 0.3% while the largest ETF that tracks the Nasdaq 100 lost 0.8% as of 6:04 p.m. in New York. Alphabet slumped about 4%. Equities rebounded from two weeks of losses during the regular session as tech stocks rallied and data on manufacturing topped estimates. The S&P 500 erased a year-to-date loss while the Dow Jones Industrial Average climbed 144 points.
Concern the coronavirus outbreak will weaken the global economy has shattered four months of calm in U.S. stocks, whipping up volatility and drowning out earnings season. Solid results from Apple Inc., and Amazon.com Inc. last week did little to cushion markets and equities ended with back-to-back weekly losses for the first time since October.
Monday night, Google parent Alphabet slipped after reporting holiday quarter revenue that missed Wall Street estimates, suggesting the company's advertising business is struggling to maintain growth in the face of rising competition.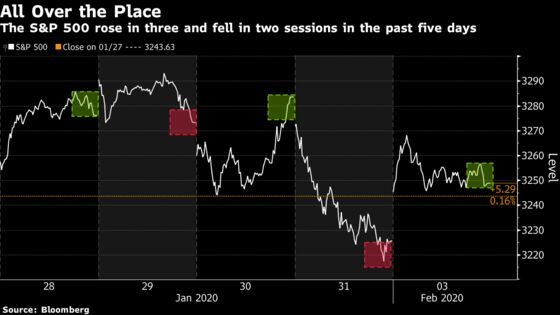 Adding to the nervous tone is American politics, where Democratic voters are in the process of choosing a candidate to run against President Donald Trump in November. The race in Iowa has been fluid, with Joe Biden, Bernie Sanders, Elizabeth Warren and Pete Buttigieg each having a spot in the lead at different times in the last six months. An Emerson poll released Sunday put Sanders ahead.
Given everything buffeting markets, distilling the impact of politics is a convoluted task at best. Even gauging how the race among Democrats might influence the full election is fraught since success for a candidate like Sanders may affect how investors perceive odds of Donald Trump's reelection.
"While Sanders winning Iowa would on the face of it represent a speed bump for risk assets, the reality is this outcome has now become consensus," RBC's Tom Porcelli wrote in a note Monday. "In other words, there is probably a good dose of asymmetry with regards to the potential market reaction to tonight's results."
Traders have an abysmal recent record of divining what will happen to the economy and share prices under a given candidate. Both of Barack Obama's victories were met with violent bursts of selling, as was Trump's in November 2016. Stocks went on to thrive under both presidents and their terms bookend one of the biggest American bull markets ever.
"The market can gravitate toward narratives and even if those don't come to pass, they can influence market performance for a period of time," said Ed Campbell, portfolio manager and managing director at QMA. At the same time, he said, "things have been so good for so long that now we get hit with some negative things that people could start to rethink things."
No matter the outcome, investors are concerned about the race. Futures tracking expectations for equity volatility show evidence of frenzied hedging at significant points in the election cycle, including the Super Tuesday primary on March 3.
"Elevated policy uncertainty usually leads to lower equity valuations and higher implied volatility in the months ahead of Election Day," wrote Goldman Sachs analysts led by Ben Snider on Jan. 30. "The wide range of the various candidates' policy views and the narrow range of polling and prediction market data indicate a particularly uncertain environment this year."
(Disclaimer: Michael Bloomberg is seeking the Democratic presidential nomination. He is the founder and majority owner of Bloomberg LP, the parent company of Bloomberg News.)