U.S. Futures Hold Gains on Nafta as Tesla Rallies After SEC Deal
(Bloomberg) -- U.S. stock-index futures held gains as Washington and Canada agreed on a trade deal that would preserve a three-way bloc with Mexico. Tesla's shares rallied in pre-market trading as investors assessed the implications of Elon Musk's settlement with federal regulators.
Futures contracts on the S&P 500 Index rose as much as 0.6 percent after the underlying gauge fell 0.5 percent last week ahead of last-minute trade negotiations at the weekend. Contracts on the Dow Jones Industrial Average and Nasdaq were both up as much as 0.8 percent.
Musk told employees that the hectic weekend would end in victory for Tesla just hours after agreeing with the SEC to relinquish the role of chairman for at least three years and pay $20 million to settle fraud charges. Morgan Stanley analysts wrote in a note that the resolution over the weekend significantly reduces risk of spillover effects on capital markets, company morale and brand value.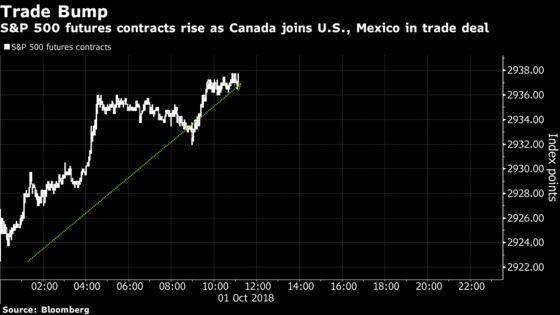 U.S. stock futures had gained in anticipation a deal would be struck to save the North American Free Trade Agreement, a "better outcome than perhaps what was previously expected," said Kyle Rodda, a Melbourne-based market analyst at IG. U.S. stocks were pressured last week as traders priced an "unfriendly outcome" to the Nafta negotiations after President Donald Trump said at the United Nations he wouldn't make the deal they were seeking, Rodda said by phone.
The new deal will be called the U.S.-Mexico-Canada Agreement, replacing the 24-year-old Nafta that involves improved access to Canada's dairy market for U.S. farmers, stronger intellectual property provisions, and tighter rules of origin for auto production, according to officials who spoke to reporters on a briefing call on condition of anonymity.
"It's a good day for Canada," said Canadian Prime Minister Justin Trudeau when asked earlier about the deal in Ottawa.
The agreement also allows assessment of how negotiations may play out in Washington's other trade disputes, Rodda said.
"You can assess the White House's negotiating position here and how much they're willing to compromise with some of these other negotiations going on around the world," he said. Still, China "won't be dragged to the negotiating table."