U.S. Index Futures Rise With European Stocks on Trade Optimism
(Bloomberg) -- U.S. stock futures rose after Washington and Beijing were said to have resumed discussions on trade ahead of a planned meeting between the two nation's leaders later this month.
Telecommunication and travel companies drove European equities higher as Vodafone Group Plc jumped on better-than-expected earnings and cost-cutting plans. Italy has until the end of Tuesday to resubmit its spending plans, with the government signaling it won't budge, setting up a political and financial clash.
December contracts on the S&P 500 Index were up 0.4 percent after the underlying gauge's 2 percent slump on Wall Street on Monday. Contracts on the Dow Jones Industrial Average gained 0.3 percent, while those on the Nasdaq 100 rose were up 0.6 percent. The Stoxx Europe 600 Index was up 0.4%.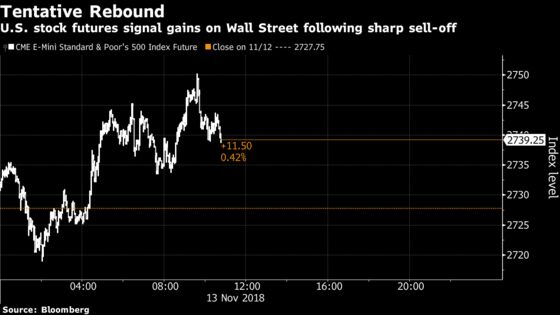 China's Vice Premier Liu He and U.S. Treasury Secretary Steven Mnuchin spoke by phone on Friday, resuming trade talks though it didn't yield any concrete results, according to people briefed on the matter. The call comes after President Donald Trump asked key officials to begin drafting potential terms for a trade deal to be reached at the Group of 20 nations summit in Argentina later this month.
The South China Morning Post also reported Tuesday that China's Liu is expected to visit the U.S. for talks aimed at easing trade tensions ahead of a meeting between the two countries.
"Buyers are all waiting for clarity on trade. Without it, we get a slow rot into year-end," said Ken Peng, a Hong Hong-based strategist at Citigroup Inc. "If there is an agreement, even if something akin to the one with Japan where they just agreed to start negotiating, we'd be ready for a 10 percent to 20 percent bounce."
Still, negative sentiment on Wall Street may persist as the outlook into 2019 has investors fretting. The Nasdaq 100 dropped 3 percent on Monday, extending its three-day decline past 5 percent, after major Apple suppliers tumbled as investors feared demand was weakening for one of technology's most important product lines.