U.S. Stock Futures Rise as Trump Holds Off on China Tariffs
(Bloomberg) -- U.S. stock futures rose after President Donald Trump signed a deal that will avert new tariffs on Chinese goods, removing a threat to economic growth and corporate profits.
Contracts on the S&P 500 climbed 0.3% as of 6:01 p.m. in New York. The underlying gauge rallied to an all-time high as speculation mounted that the two sides would de-escalate the nearly two-year trade war. Nasdaq 100 futures jumped 0.3% and Dow Jones Industrial Average contracts rose 0.3%.
The deal presented to Trump included a promise by the Chinese to buy more farm goods and officials also discussed reducing existing tariffs, according to people familiar with the situation. The terms have been agreed but the legal text has not yet been finalized, the people said.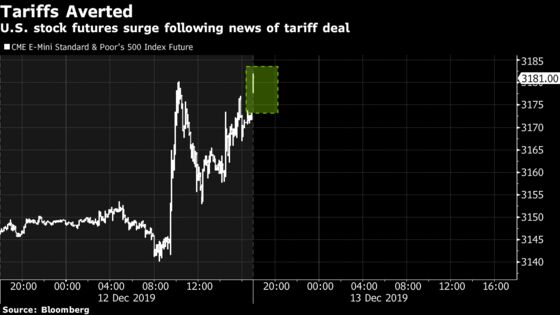 A breakthrough on trade removes a major hurdle for equity investors already celebrating after one of the strongest years for stocks in two decades. The threat of tariffs hamstrung corporate executives and threatened to dent consumer spending, one of the main pillars of the economy.
"It's deescalation. It's no longer a headwind," Sandip Bhagat, Whittier Trust's chief investment officer, said by phone.
The risk-on mood sparked by trade optimism spread Thursday to bank stocks, where one of the last vestiges of the financial crisis crumbled when the S&P 500 Financials Index briefly surpassed its previous closing high, eclipsing the record they touched in February 2007 before losing more than 80% of their value in less than two years.
The trade developments added to an already bullish mood this week after the Federal Reserve signaled it is in no rush to raise interest rates as the economy shows steady improvement and late Thursday announced it's ramping up measures to combat end-of-year funding risks.
Bulls got yet another dollop of good news when exit polls showed Conservatives winning a clear majority in U.K. elections, putting the country on track for an orderly exit from the European Union next month.
The S&P 500 has rallied 6.4% since September and is up 26% for the year, the most since 2013.
"So much uncertainty has come out of the market just in the fourth quarter alone, which is in sharp contrast to what we saw last year," Bhagat said. "No deal Brexit is off the table, Phase 1 is about to get signed, the Fed who was guilty last year for creating a lot of confusion couldn't have been clearer this time around, and then growth has been ahead of expectations on so many different fronts."