U.S. Index Futures Rise as Trump Delays March Tariff Increase
(Bloomberg) -- U.S. stock-index futures rose as President Donald Trump said he would delay a planned increase in tariffs on Chinese goods after a "very good weekend" of talks. European stocks also advanced after U.K. Prime Minister Theresa May pushed back the deadline for Parliament to vote on her Brexit deal. The telecommunications sector will be in focus this week, with the Mobile World Congress taking place in Barcelona.
E-mini contracts on the S&P 500 Index expiring March extended gains again to 0.4 percent as of 9:40 a.m. in London, after paring an advance when China's official Xinhua News Agency published a more skeptical commentary. Futures on the Dow Jones Industrial Average and Nasdaq 100 Index gained 0.5 percent. The Stoxx Europe 600 Index was up 0.3 percent, with sectors that are sensitive to trade news including miners, semiconductors and autos among those to be leading the advance.
Trump said in a tweet Sunday that both sides had made "substantial progress" on important issues including intellectual property protection, technology transfer and currency, among others. As a result, tariff increases scheduled for March 1 will be delayed, he said.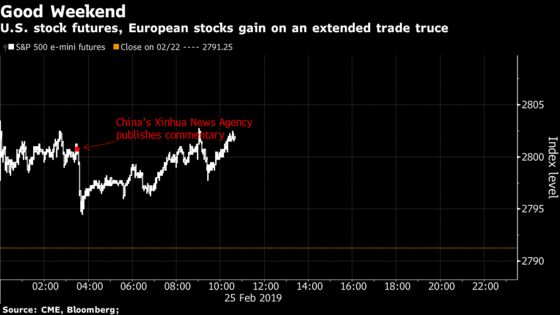 China's official Xinhua News Agency said the talks face "new uncertainties" and negotiations will be tougher in the final stages. The two nations still have disagreements that need more time to be resolved, it said in a commentary, without explaining what the uncertainties were.
U.S. stocks have rallied 19 percent since hitting the brink of a bear market on Christmas Eve with sentiment lifted by the Federal Reserve taking a more dovish stance and progress in the trade spat with China. The latest round of negotiations in Washington was extended into the weekend as China offered to buy more American goods such as agricultural products and energy in a bid to meet Trump's demand to shrink the U.S. trade deficit.
The optimism since the December low could quickly turn to pessimism as there still isn't any deal on the underlying structural issues that the Washington trade hawks are asking for, said Eleanor Creagh, a Sydney-based market strategist at Saxo Capital Markets.
"That's what the markets are really looking for now," she said by phone. "We could certainly see some of the optimism being baked in since those December lows being erased."