U.S. Stock Futures Gain as Negotiators Vow Effort on Trade Deal
(Bloomberg) -- U.S. stock index futures rose as positive developments around a U.S.-China trade deal added to optimism spurred by news on major economies moving toward reopening.
Contracts on the S&P 500 rose as much as 1.5% before trading 0.9% higher as of 9:08 a.m. in London. Futures on the Nasdaq 100 Index and Dow Jones Industrial Average were also up 0.9%. China's Vice Premier Liu He talked with U.S. Trade Representative Robert Lighthizer and Treasury Secretary Steven Mnuchin by phone on Friday Beijing time, according to the Xinhua News Agency. The two sides pledged to cooperate on the economy and public health, the report said.
"Given the recent rising tensions between the U.S. and China surrounding Covid-19, investors are likely comforted to see that both sides are still working toward implementing the phase-one deal," said Takeo Kamai, head of execution services at CLSA Securities Japan. "Disruption in the trade front would've added another level of anxiety and put us right back to the central issue for the markets in 2019."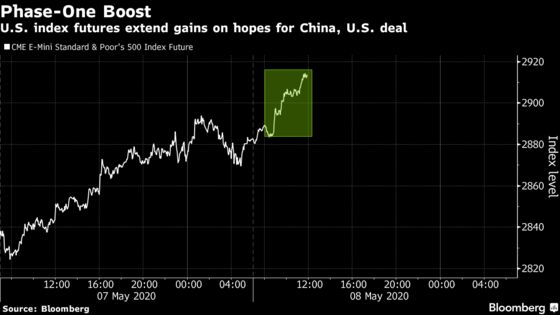 The gains in equity futures added to bullish sentiment that drove shares higher on Wall Street on Thursday. The underlying S&P 500 rallied 1.2% with speculation mounting that the worst of the economic damage from the virus has passed as more of the country reopens.
The focus later Friday will be on the U.S. jobs report, which is forecast to show employers slashed about 22 million jobs in April, nearly erasing a decade of job gains in a single month.
On Thursday, data showed filings for unemployment remained at historically high levels, but fell from the prior week. The tech-heavy Nasdaq Composite turned positive for the year, wiping out losses that reached as much as 24% at the depths of the pandemic-fueled sell-off.