U.S. Futures Signal Rise After Worst Two-Day Drop Since February
(Bloomberg) -- U.S. equity futures staged a rebound after the worst two-day slump since February as technical levels continued to exert outsize influence on the stock market.
December contracts on the S&P 500 Index climbed as much as 1.4 percent, compared with the cash market's 2.1 percent decline. Futures on the Nasdaq 100 gained 1.5 percent, while contracts on the Dow Jones Industrial Average climbed 0.9 percent.
In Europe, the Stoxx 600 Index jumped as much as 1 percent, the highest intraday raise since late July, with all the subgroups in green. Basic resources shares led gains in Europe.
Stock trading turned extra volatile Thursday as the S&P 500 neared and then fell through its 200-day moving average, a chart line that has put a floor under several selloffs earlier this year. The cash benchmark closed almost 1.4 percent below the level Thursday, the most since 2016. Futures for the benchmark index are still trading below their own 200-day mark.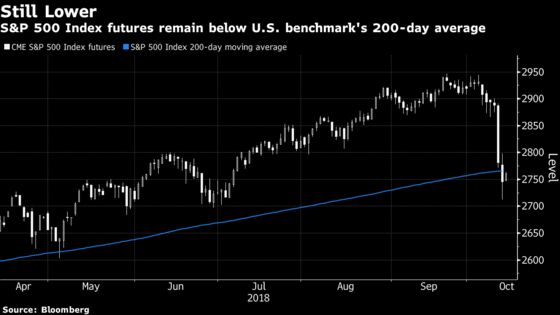 "My best guess is that it's technically motivated given how low the market has gone," said Shane Oliver, head of investment strategy at AMP Capital Investors Ltd. "If you look at RSI, technically the U.S. stocks are more oversold than in February."
The 14-day relative strength index on the S&P 500 dipped below 30 this week, a level frequently seen as oversold.
The rally in futures comes after U.S. Treasury Department's staff advised Steven Mnuchin that China isn't manipulating the yuan as the Trump administration prepares to issue a closely watched report on foreign currencies, according to two people familiar with the matter.
"There could be more risk-reduction into the weekend as investors position more defensively," Stephen Innes, Singapore-based head of Asia Pacific trading at Oanda Corp. wrote in a note. "But this does offer a significant window of opportunity for the not so meek of heart."