S&P 500 Futures Fall on U.S. Virus Case Without Outbreak Ties
(Bloomberg) -- U.S. stock index futures fell after American health authorities said they've identified the first case of coronavirus that doesn't have known ties to an existing outbreak.
March contracts on the S&P 500 Index dropped as much as 1.6% after the U.S. Centers for Disease Control and Prevention said the patient doesn't appear to have traveled to China or been exposed to another known case of the virus. Contracts also dropped after a speech by President Donald Trump failed to assuage investors' concerns of the novel coronavirus derailing global growth.
S&P 500 futures were down 0.7% at 05:21 a.m. in New York, while both Dow Jones futures and Nasdaq futures slid 0.6%. In Europe, the Stoxx 600 Index sank 1.8%, as more companies warned that the coronavirus would hit profits.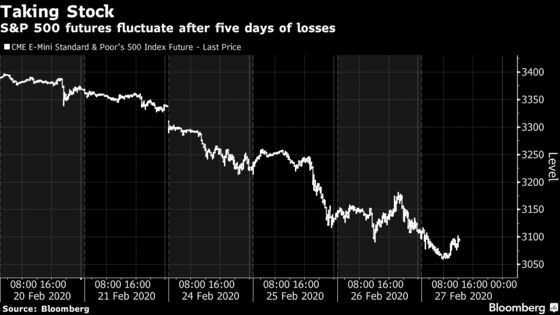 Trump sought to calm markets after one of the worst stretches for American stocks in almost five years. The underlying index is mired in a five-day losing streak that wiped out more than $2 trillion in value from American equities. The U.S. urged travelers to reconsider trips to South Korea as the country's number of cases rose to more than 1,500. New infections were diagnosed in countries from Pakistan to Brazil. Saudi Arabia halted religious visits that include stops in Mecca and Medina.
More coronavirus cases were reported in other countries than in China for the first time, the World Health Organization said, a significant development highlighting the spread of the epidemic around the globe.
On Wednesday, the S&P 500 plunged more than 7% from records set just a week ago, as investors grew concerned the virus will derail global economic growth. The number of companies warning the virus's spread would impact sales and earnings jumped, with the likes of Apple Inc., Mastercard Inc. and United Airlines Holdings Inc.
Goldman Sachs equity strategists wrote in a note on Thursday that they expect no profit growth for U.S. companies in 2020 as they update their earnings model to incorporate the likelihood that the virus becomes widespread.