U.S. Stock Index Futures Fall on Saudi Tensions, Trade Woes
(Bloomberg) -- U.S. stock index futures fell as investors turned cautious again amid rising political tensions between Washington and Riyadh, while trade frictions worsened between the U.S. and China. European stocks tumbled again, also hit by Italian budget woes and as Brexit talks dragged on with just days to go until a critical deadline. Finance chiefs warned on global economic fragility at an annual IMF gathering.
Futures contracts on the S&P 500 index fell 0.8 percent after the underlying gauge had its worst weekly slump since March 23 last week. Contracts on the Dow Jones Industrial Average and Nasdaq were down 0.7 percent and 1.1 percent, respectively.
The message overall at the IMF gathering in Bali was that the world economy is plateauing and by 2020 may be considerably weaker as simmering trade tensions are already denting global growth and need to be resolved. The IMF estimates a full-blown trade war would shave more than 0.8 percent off global output in 2020.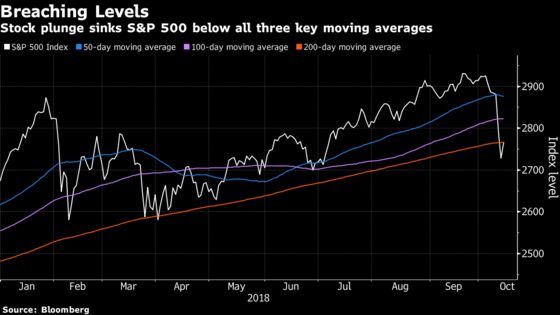 Continued risk-off sentiment comes as White House economic adviser Larry Kudlow warned Sunday of "stern action" by President Donald Trump if Saudi Arabia is found responsible for journalist Jamal Khashoggi's disappearance in Turkey. Trump also threatened to impose another round of tariffs on China in an interview with CBS's "60 Minutes."
Kudlow's comments and the lack of progress in the trade spat with China "have got investors on the back foot to start the week," said Nick Twidale, chief operating officer at Rakuten Securities' Australian unit. "It's still a very fragile and vulnerable trading environment after after last week's moves."