Traders Cheer on Trade Deal Optimism as U.S. Stock Futures Soar
(Bloomberg) -- U.S. stock-index futures rose, erasing early Friday losses, after a series of reports signaled the beginning of a potential thawing of relations with China.
December contracts on the S&P 500 Index rose as much as 1 percent in early European trading after Bloomberg News reported that President Donald Trump was said to have asked key officials to key officials to begin drafting potential terms for a trade deal to be reached at the Group of 20 nations summit in Argentina later this month. It came after the president's telephone call with China's Xi Jinping on Thursday.
The U.S. also agreed to let eight countries -- including Japan, India and South Korea including -- keep buying Iranian oil after it reimposes sanctions on Nov. 5, a senior administration official said. China -- the leading importer of oil from the OPEC producing country -- is still in discussions with the U.S. on terms, but is among the eight, according to two people familiar.
Futures on the Dow Jones Industrial Average also climbed as much as 1 percent, while those on the Nasdaq gained 0.9 percent. Stock markets across Asia soared, with the MSCI Asia Pacific rallying 2.4 percent and Hong Kong's Hang Seng Index jumping about 4 percent. Japan's Topix index closed 1.6 percent higher.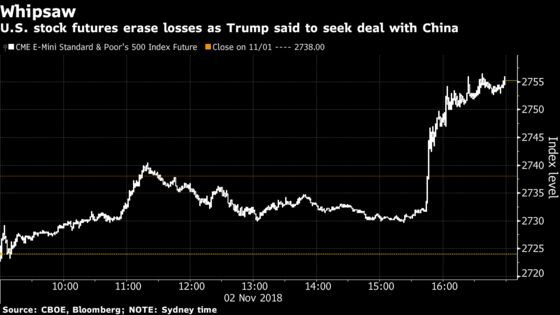 A potential trade deal between the U.S. and China is a positive piece of news but it might be more a case of "placating the market ahead of quite a major event," said Kerry Craig, a Melbourne-based global markets strategist at JPMorgan Asset Management, referencing the U.S. mid-term elections next week. "Going into any election, politicians look to having a strong market and a strong labor market as well."
Apple Inc. gave an underwhelming forecast for the key holiday trading period and further stoked concerns by saying it will stop reporting unit sales of its most-important product. Its shares were down more than 6 percent in post-market trading while the SPY, an ETF tracking the S&P 500 Index, fell as much as 0.7 percent after-market.
Not everyone's convinced that the trade deal will help financial markets globally. "In general, I'm less worried about this whole bru-ha-ha than other things that are going on in the world at the moment," said Steve Johnson, Sydney-based chief investment officer at Forager Funds Management.
"Inflation, interest rates, these are the big issues for financial markets. I think we can deal with trade," he said.