U.S. Index Futures Advance on China's Tariff Olive Branch
(Bloomberg) -- U.S. stock futures rose after China said it will halve tariffs on $75 billion of imports from the U.S. starting Feb. 14.
Contracts on the S&P 500 Index expiring in March climbed 0.2% as of 10:28 a.m. in London. E-mini futures on the Nasdaq 100 Index and those on the Dow Jones Industrial Average gained 0.3%.
American equities rallied Wednesday to an all-time high on positive U.S. economic data and speculation that efforts to minimize the economic impact from the coronavirus will succeed. The S&P 500 has gained 3.4% in three days.
In Europe, the Stoxx 600 Index rose to a record high on Thursday, with cyclical sectors leading gains and sentiment boosted by positive earnings reports.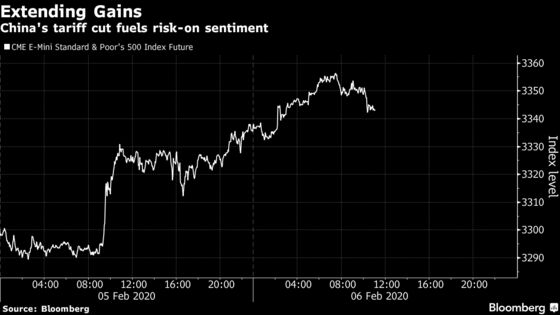 U.S. futures are "looking at continued gains amid the sustained risk-on mood within markets," said Jingyi Pan, a market strategist at IG Asia. China's tariff cut "does come as a surprise given the backdrop of the U.S.-China trade issue, but represents another slight aid by the Chinese government in light of the coronavirus stress on the economy. For U.S. markets, however, it is just the move to keep the momentum going."
Companies reporting earnings in the U.S. Thursday include Philip Morris, T-Mobile and Estee Lauder.
Shares in Asia climbed Thursday. Japan's benchmark Topix index advanced 2%, helped by the China tariff news as well as Toyota Motor Corp.'s increased earnings forecast.