U.S. Stock Futures Jump With Nasdaq as All Eyes on U.S. Election
(Bloomberg) -- U.S. stock index futures rose as the presidential contest between Donald Trump and Joe Biden hinged on the outcomes of a handful of states and as technology stocks gained in premarket trading.
S&P 500 futures for December climbed 2.1% by 06:00 a.m. in New York, hitting a session high, while Nasdaq 100 contracts gained 2.8%. The underlying S&P 500 advanced more than 2% on Wednesday, rising the most since June, and the Nasdaq 100 surged more than 4% in its best rally since April. The rally was dominated by technology and health-care sectors, whose relative immunity from the economic cycle has made them defensive havens during the pandemic. The Stoxx Europe 600 rose 0.9%, with tech shares leading sector gains.
U.S. tech majors, such as Apple Inc. and Microsoft Corp., advanced in premarket trading on Thursday. Index futures also rose after Biden won Michigan and Wisconsin, putting him on the brink of taking the White House from President Trump. A narrow victory by either, coupled with a split legislature, will make it unlikely that Trump's 2017 corporate tax cuts -- an important driver to stock gains -- are rolled back, as Biden has pledged to do.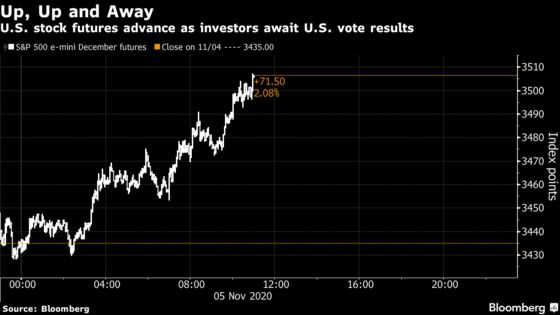 "If the Republicans keep the Senate, there will be no tax rises, there will be no nasty regulatory reform, there will be no big left agenda," said Hamish Douglass, chairman and chief investment officer of Magellan Financial Group Ltd. "And if Biden gets in, I suspect we're going to have a more moderate discussion globally. We're going to have a more normal dialogue about foreign policy and global institutions, and markets will like to hear that."
Besides the American presidential election, traders have plenty else to contend with this week. Federal Reserve officials conclude a two-day meeting Thursday, and though the tight election puts pressure on them to deploy even more monetary stimulus to support the economy, the central bank is not expected to announce a shift in its stance. Then, on Friday, the government's monthly jobs report is forecast to show private payrolls increased by about 700,000 after an 877,000 gain in September.
"The election uncertainty is more or less cleared so a lot of traders standing on the sidelines for this election hump to clear are all rushing in," said Margaret Yang, strategist at DailyFX. "Now the focus can return back to fundamentals, stimulus and monetary policy."