U.S. Stock Index Futures Slip as G-20 Summit Euphoria Fizzles
(Bloomberg) -- U.S. stock-index futures fell as investors said the trade truce between the U.S. and China lacked detail. European equities declined, pulled down by auto stocks. Oil rose before OPEC, facing oil market and political turmoil, is set to meet in Vienna on Thursday to decide on 2019 oil production.
December contracts on the S&P 500 Index were down 0.4 percent at 04:05 a.m. in New York after the underlying gauge rose a second day on Monday. Futures on the Nasdaq 100 Index and Dow Jones Industrial Average were down 0.6 percent and 0.5 percent, respectively. The Stoxx Europe 600 index was down 0.3 percent.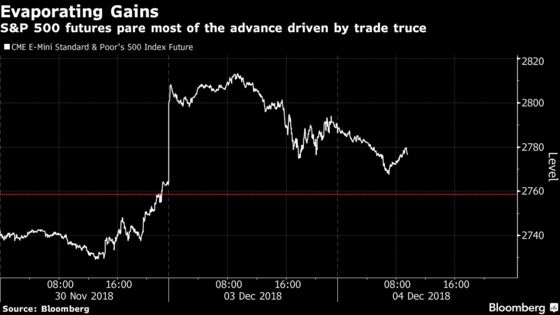 "The disparities between what Trump said and what his advisers said is just not good," said Nick Twidale, chief operating officer at Rakuten Securities' Australian unit. "We are going to see retracements due to the lack of details from the U.S. and China on the whole trade situation."
The market's initial positive reaction over the declared truce between the U.S. and China fizzled after President Donald Trump left his top advisers scrambling on Monday to explain the trade deal he claimed he'd struck.
Twidale said his clients are reducing positions in equity indexes and currencies, which shows a turnaround in sentiment since the Group of 20 summit in Argentina on Sunday. Stocks fell in Japan, Korea and Australia and fluctuated in China on Tuesday, while U.S. Treasury yields dropped.
"The sentiment is swinging so much," said Stephen Innes, Singapore-based head of Asia-Pacific trading at Oanda Corp. "If you are not getting a clear signal, then it is best to cut positions."