U.S. Stock Futures Fall Amid Sharp Sell-Off in European Techs
(Bloomberg) -- U.S. stock-index futures dropped as risk aversion in Asia spread to Europe, where a raft of disappointing updates from tech companies including Apple Inc. chip supplier AMS AG sent the Stoxx Europe 600 to December 2016 levels.
Contracts on the S&P 500 Index were down 1.3 percent as of 05:55 a.m. in New York, while Nasdaq futures declined 1.5 percent and contracts on the Dow Jones Industrial Average were down 1.2 percent. In Europe, the Stoxx 600 Index fell 1.5 percent. Europe's tech sector index tumbled 4 percent led by AMS. Shares in the chipmaker plummeted 27 percent after a disappointing guidance for fourth-quarter margin.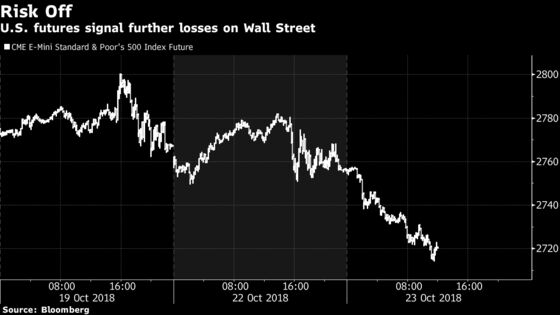 Asian equity benchmarks including those in China and Hong Kong reversed a two-day rally. Japan's Nikkei 225 Index slumped 2.7 percent, Hong Kong's Hang Seng index declined 3.1 percent while China's Shanghai Composite Index fell 2.3 percent.
Most U.S. shares declined Monday led by financials and homebuilders amid weakening sentiment in real estate. Strategists at Morgan Stanley and Goldman Sachs said the equity rally is starting to wobble as the market struggles to come to terms with what many see as a new regime of higher bond yields, slowing profit growth, and persistent political tensions at home and abroad.
This comes ahead of a slew of key earnings reports this week. Amazon.com Inc., Google's Alphabet Inc., Twitter Inc. and Microsoft Corp. are all slated to report later this week.