U.S. Stock Futures Drop After Trump Says China 'Broke the Deal'
(Bloomberg) -- U.S. stock-index futures slid after President Donald Trump said China "broke the deal" that he was negotiating on trade, days after he threatened to raise tariffs on billions of dollars in Chinese imports.
Futures contracts on the S&P 500 expiring in June fell as much as 0.9% after Trump made comments on trade talks at a campaign rally Wednesday in Panama City Beach, Florida. Dow Jones Industrial Average contracts also dropped up to 1%, while those on the Nasdaq 100 fell 1.1%. An index tracking European shares was also down.
Trump's latest comments further clouded the outlook for negotiations that were already strained by U.S. plans to lift tariffs on $200 billion of Chinese goods to 25% from 10% and China's threats of retaliation. The president noted that top Chinese trade negotiator Liu He was traveling to Washington for further talks. "They come in tomorrow and whatever happens, don't worry about it. It will work out. It always does," he said.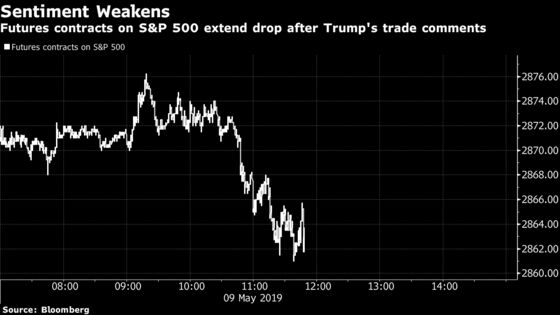 U.S. stocks have had a volatile trading week with three straight days of losses as tensions between the world's two largest economies escalated. The S&P 500 whipsawed and eventually closed 0.2% lower Wednesday in a headline-driven market amid the conflicting messages on trade talks. The three-day decline of 2.3% puts the market on course for its worst week since the Christmas Eve meltdown.
"The pressure looks to continue amid the trade concerns found within the market with heightened volatility a new normal this week," said Jingyi Pan, market strategist at IG Asia Ltd. in Singapore