Reprieve for U.S. Stocks Hits Wall on Amazon, Alphabet Earnings
(Bloomberg) -- The reprieve for U.S. stocks is looking brief.
December contracts on the S&P 500 Index were down 1.4 percent as of 05:49 a.m. in New York after the underlying gauge rallied from a six-day slide. Contracts on the Nasdaq 100 and Dow Jones Industrial Average were down 2.5 percent and 1.2 percent, respectively.
Amazon.com Inc. was down 10 percent in pre-market trading after giving a disappointing revenue forecast for the holiday period, while Alphabet Inc. was down 5.9 percent after saying bigger payouts to distributors plus lower ad fees are putting a damper on revenue growth.
Index futures aren't capturing all the ugliness likely at the New York open because Amazon and Alphabet's results were reported too soon after the 4 p.m. close on Thursday to affect today's contracts. As of 5:49 a.m., an exchange-traded fund tracking the Nasdaq 100 was down roughly 4 percent from its close yesterday, while one tied to the S&P 500 has fallen more than 2 percent.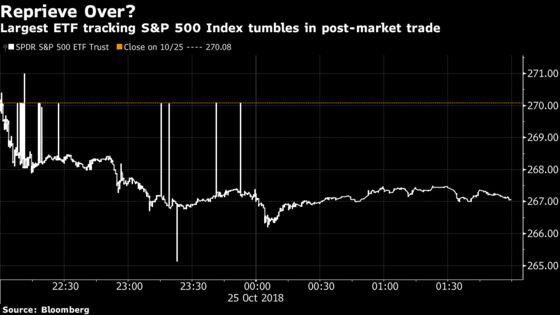 Asian shares fell a fourth day, set for their worst month in a decade, while European stocks also retreated. The Stoxx Europe 600 index was led 1.7 percent lower by auto and parts companies, basic resources and chemicals, with all industry sectors in the red.
The profit results at two of the world's largest tech companies added to a mixed U.S. corporate earnings season after strong results from Twitter Inc., Microsoft Corp. and Tesla Inc. Caterpillar Inc., a bellwether of global growth, was punished by investors after repeating its warnings of rising costs due to higher steel prices and U.S. tariffs.
"This earnings season has thrown up concerns of earnings into 2019," said Kyle Rodda, a Melbourne-based market analyst at IG. That's turned the sell-off on bond yields into "something a little bit more severe as markets adjust their expectations for future earnings."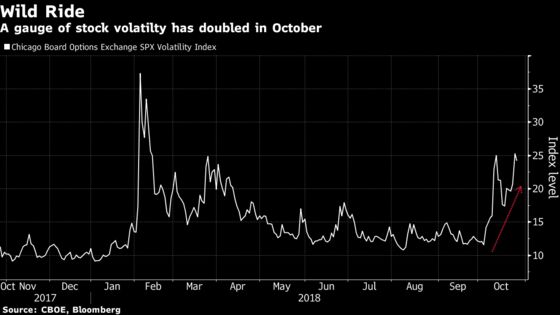 Triggered by rising Treasury yields on the prospect of tighter Federal Reserve policy, the S&P 500 Index has tumbled 7.2 percent this month as the VIX Index, a measure of volatility, has doubled. Weak housing data fueled anxiety that rising prices will crimp economic growth as investors come to terms with what many see as a new regime of higher bond yields, slowing profit growth and persistent political tensions at home and abroad.
Adding to equity investors' concerns, officials from both the U.S. and China are increasingly pessimistic about prospects for a resolution to their deepening trade war. Larry Kudlow, the head of Trump's National Economic Council, has accused Beijing of refusing to engage on trade issues while Chinese officials are bracing for a prolonged fight and focusing on adapting to a "new normal" in relations.
The spat may get worse as it will likely require the U.S. to compromise given that Beijing can take a longer view than the U.S., said Hamish Douglass, chairman and chief investment officer at Magellan Financial Group Ltd. that manages A$74.5 billion ($53 billion). "Markets are being incredibly complacent about this risk."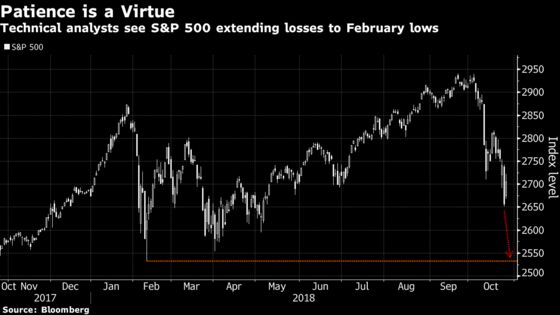 Stocks may have further to fall, according to closely watched Wall Street analysts. Options trading to breadth, indications of panic that usually exhaust sellers have been largely missing during this month's sell-off, Chris Verrone, head of technical analysis at Strategas Research Partners, wrote in a note to clients.
Jeff deGraaf, Renaissance Macro Research's co-founder, shared the caution, predicting that the S&P 500 Index will fall another 5 percent and revisit its 2018 lows as it's still too soon to anticipate a meaningful low. "We'd rather exert patience and await a high probability event than exhibit capriciousness and get too cute," he wrote in a note to clients.