Stock Bulls See Foe In Former Ally as 200-Day Average Looms
(Bloomberg) -- The key technical support that had U.S. stock traders transfixed on the way down is now getting their attention on the way up -- as resistance.
The S&P 500 Index rose to a high of 2756.55 Friday, just below the 200-day moving average of 2764.66, before giving up gains as Treasury yields rose and optimism over a trade breakthrough waned. The gauge has traded below the level for about two weeks now, and the further it remains that way the more important the average becomes an impediment for technical traders betting on a year-end rally.
"Last week's strong bounce took the S&P right up to that moving average once again, but it was not able to break back above it," Miller Tabak & Co. strategist Matt Maley wrote in a note Saturday. "In other words, the old adage worked very well: 'old support' becomes 'new resistance."'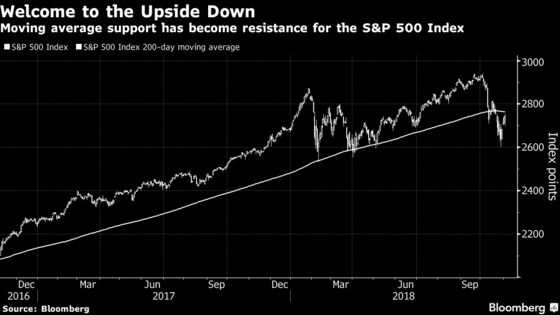 If the S&P 500 can't re-emerge above the moving average, Maley sees potential for the index to re-test its October lows around 2,600, if not sink further.
The benchmark U.S. stock gauge remained above the "200-DMA" for much of 2018. It acted as an important support for shares in the February sell-off, and again in the market volatility in early April. Since breaking the average on Oct. 11, U.S. equities have struggled for positive traction, though the S&P 500 does remain almost 2 percent higher this year. Futures on the gauge were little-changed as of 6:57 a.m. New York time.
"People are probably tired of hearing about this technical level, but there is no question that it provided excellent support for the S&P for most of this year," Maley wrote. "When it finally broke below that line, it hit an air pocket."