U.S. Small Caps Pierce Three Key Support Levels
(Bloomberg) -- The Russell 2000 Index's rough start to October is getting even worse as one of the last lines of technical defense gives way.
After a more than 5 percent plunge so far this month, the index is trading below its 50-day, 100-day and 200-day moving averages. The measure of small-cap U.S. stocks is on track to close below all three levels, which have provided support during previous selloffs, for the first time since August 2017.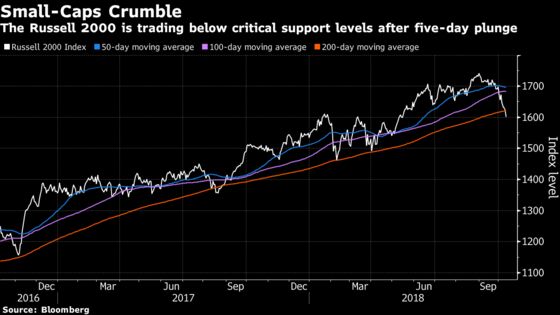 The Russell 2000 had been outperforming the broader stock market for most of the year as its more domestically focused members were seen as being relatively immune from trade disputes between the U.S. and China. The so-called America First trade has quickly unraveled, with the small-cap gauge giving up all its outperformance versus the S&P 500 Index as investors reassess riskier holdings in the wake of higher interest rates.
"What's showing up in small caps is it's not the tariff trade anymore, it's not the dollar trade anymore, it really is a risk-off trade where people are clutching to the largest, most liquid names," said Sameer Samana, a global quantitative and technical strategist for Wells Fargo Investment Institute.
The Russell 2000 is down about 8 percent from its August peak, trimming its advance in 2018 to 4 percent. The S&P 500 is down 3 percent from its record last month, narrowing the year-to-date gain to just over 6 percent.