U.S. Recovery to Be Longest in History, Says $115 Billion Bull
(Bloomberg) -- The U.S. economic expansion will stretch into the 2020s and a flattening yield curve is normal and unlikely to invert soon, according to U.S. investment manager Payden & Rygel.
The global economy looks on firm footing across the board, with unemployment rates trending lower and inflation rates remaining well behaved, said Brad Boyd, senior vice president at the Los Angeles-based firm which has $115 billion in assets under management. The yield curve flattening is not an issue and can stay that way for a long period without inverting, he said at an investor briefing in Sydney.
"The U.S. recovery can go on and on," Boyd said. "Recoveries don't die of old age, they don't on average have to end after 10 years. Australia is the poster child of economies continuing to expand," he said, referring to the nation's 27 years of uninterrupted economic growth. "We think the U.S. recovery will be the longest in history."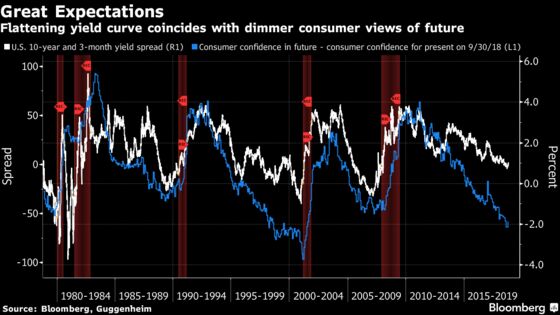 Debate about whether a flatter yield curve foreshadows a recession in the world's largest economy has preoccupied investors this year as the Federal Reserve continues on its path of raising interest rates. Payden & Rygel's views clash with those of Guggenheim Partners, the $265 billion investment firm that tips a U.S. recession to start in early 2020 and believes investors shouldn't ignore the flatter curve.
"We are constructive on the global economy for the next several years," Boyd said. "The trigger for a recession has been actually an inversion, not yield curve flattening. You can have long periods of growth when curves are flat, but not yet inverted."
Payden & Rygel predicts the U.S. cycle will continue into the 2020s and doesn't see a recession unless the three-month to 10-year yield curve inverts, according to a presentation. It is normal to see a flatter yield curve as the Fed tightens monetary policy and the manager expects higher rates across the curve.
The benchmark 10-year Treasury yield has climbed over 70 basis points to 3.12 percent this year, while that on the 2-year equivalent is up almost 100 basis points to 2.85 percent. The gap between the two shrunk to an 11-year low of 19 basis points on Aug. 24 before rebounding to about 27 basis points Tuesday.
Payden & Rygel expects the Fed to hike rates in December and likely deliver another three next year, said Boyd, who is also portfolio manager of the Payden Global Income Opportunities Fund. Bond traders this month have trimmed wagers on the pace of Fed hikes next year as equities have been battered in October and 10-year yields have fluctuated.
Despite the turmoil that has roiled markets, Boyd said that while corrections will happen from time to time, risk markets remain well supported.
"We don't think you can have a systemic sell-off in risk with labor markets this tight," he said. "Risk markets will still be supported despite the fact we are subject to volatility from time to time."