U.S. Pins Possible Strategic Oil Release on Monthly Report This Week
(Bloomberg) -- A U.S. government report coming out Tuesday may determine whether the Biden Administration decides to release crude from the Strategic Petroleum Reserve. 
Administration officials will likely be looking for a significant revisions to price forecasts and the balance of supply and demand from from last month's Short Term Energy Outlook before making a decision. Last month it predicted that oil and gasoline prices would start to fall at the end of this year and slide further next year as the market returns to a surplus. 
The monthly report is watched closely by traders and policy makers. Since it was last published on October 13, U.S. benchmark crude oil briefly surged above $85 a barrel as global demand has recovered far more swiftly from the pandemic in contrast to energy production. 
Here's a closer look at what the STEO said in October:
U.S. regular gasoline retail prices would average $3.21 per gallon in October before declining to $3.05 per gallon in December. Prices at the pump are currently averaging $3.42 per gallon, according to AAA.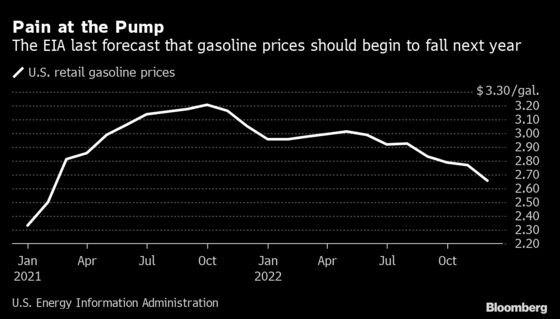 The government forecast the average West Texas Intermediate and Brent crude prices in 2022 would fall to $68.24 a barrel and $71.91 a barrel, respectively.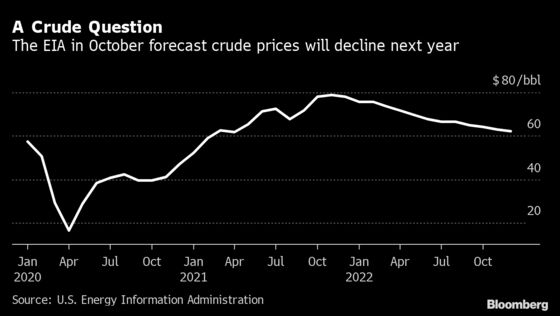 The government predicts that output will rise to 11.7 million barrels a day in 2022. That's still much lower than the nearly 13 million barrels the nation was producing in early 2020.