U.S. Options Setup May Signal Risks for Stocks, Tallbacken Says
(Bloomberg) -- A lack of demand for bearish options on the U.S. stock market signals potentially troubling investor complacency amid a record-breaking equity rally, according to Tallbacken Capital Advisors LLC.
Total open interest in put options on the S&P 500 index is around a four-year low, according to data compiled by Bloomberg. Options premiums are also "expensive," possibly contributing to a further drop in open interest, Tallbacken Chief Executive Officer Michael Purves wrote in a note.
"Ultimately, this sets up a complacency situation which will exacerbate market vulnerability," he said. "But not just yet."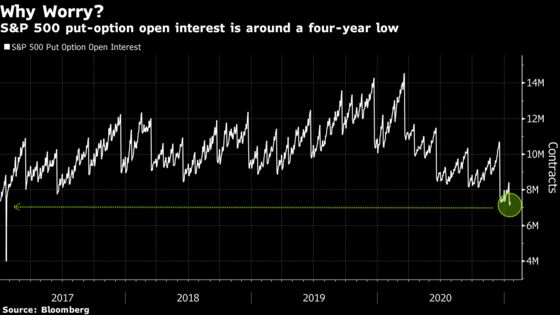 Equity gauges from the U.S. to Asia scaled all-time highs this week amid optimism about a recovery from the pandemic, aided by stimulus and vaccines.
Signs of froth abound -- for instance, investors who trade the smallest number of options at a time amassed record bullish contracts last week, according to Sundial Capital Research Inc. At the same time, the Cboe Volatility Index -- the S&P 500's so-called "fear gauge" -- is still elevated compared its longer term averages.
Some strategists have cautioned about the risk that any stock selloff could be exacerbated by a turbulent unwinding of one-sided, upbeat bets.