U.S. Refiners Cash In on Fat Margins as Fuel Demand Surges
(Bloomberg) -- U.S. refineries are enjoying the highest profit margins to turn crude oil into gasoline in four years for this time of the year, as demand for the fuel jumps.
The Nymex gasoline crack, a rough gauge of the margin refiners can capture with a barrel of crude based on futures prices in New York, was trading above $16 a barrel on Wednesday, the highest since 2017, seasonally. 
Higher margins signal that oil demand will remain robust as refiners continue to process crude to meet demand. That could mean oil stockpiles will continue to fall in the coming months. Gasoline balances worldwide are set to tighten significantly over November and December. 
The four-week average for finished motor gasoline supplied, a proxy for demand, has jumped to about 9.4 million barrels per day, close to pre-pandemic highs for this time of year, according to data from the U.S. Energy Information Administration. This has helped push inventories to the lowest since November 2017. 
It is incredible that gasoline "is ripping to multi-year highs during refinery maintenance season," Bob Yawger, director of the futures division at Mizuho Securities USA said in a note. Gasoline inventory declines are likely to support cracks further, he added.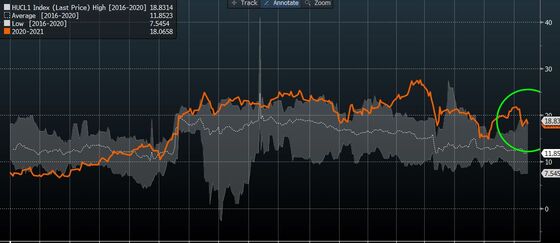 A drop in imports is also helping to prop up margins. That trend is likely to continue with West Africa set to become increasingly reliant on European supplies by the end of the year, leaving the U.S. East Coast with fewer European imports, Energy Aspects said in a report. 
Total gasoline imports into the U.S. East Coast fell to just 431,000 barrels a day in the 26 days in October, the lowest since February, according to data intelligence firm Kpler. That's higher than 386,000 last October during the pandemic, but lower than the 493,000 barrels a day in October 2019, the figures show.
Still, some of the benefits refiners are expecting to see from the surge in margins are being dented by biofuel costs. 
Biofuel credits for ethanol -- or RINs that are used to track compliance with federal blending law known as the Renewable Fuel Standard (RFS) --- have more than doubled from 12 months ago on optimism that Joe Biden's White House would be more friendly toward biofuels than the prior two administrations.
"The RFS is adding around 20 cents per gallon to the cost of making fuel that two parties are paying for right now -- independent, merchant refiners and consumers," Brendan Williams, head of government relations for oil refiner PBF Energy Inc., said in an email.