Oil ETF Ensnared in Crude's Crash Tries to Stave Off Turmoil
(Bloomberg) -- Oil's collapse is leaving the biggest U.S. crude-tracking fund at risk of becoming dislocated from prices, raising the prospect of another casualty in the crisis.
Furious buying by retail investors trying to pick a bottom in crude, along with a rush by short-sellers making the opposite bet, sparked a surge in new share creation that had swelled the United States Oil Fund to its maximum allowed size.
On Monday, the day West Texas Intermediate futures for May delivery tumbled into negative territory for the first time in history, the exchange-traded fund asked the U.S. securities regulator for permission to register an additional 4 billion shares.
A day later, it said in aregulatory filing that it was changing the makeup of its portfolio. While it intends to track its benchmark as closely as possible, it warned that "significant" deviations may occur.
Famed oil trader Pierre Andurand said earlier Tuesday that he thinks bourse operator CME Group will have no choice but to close out long-oil ETF positions because of the risk of negative prices. "Anything that invests in the front two months of WTI is a recipe for disaster," he said in an interview with Bloomberg TV.
The USO fund, as it's known, will now hold about 40% of its portfolio in the most-active June futures contract, 55% in July and 5% in August, according to a regulatory filing Tuesday. Due to "ongoing extraordinary market conditions," it may invest in any month available or in varying percentages.
USO had accumulated a fifth of all the outstanding contracts in May futures in recent weeks, before rolling over its position into the June one last week. Without the fund, the May contract was abandoned to the forces of physical supply and demand, exacerbating its plunge below zero.
Also read: It's Time to Put USO Out of Its Misery
The fund's move to change its portfolio tightened the premium of July WTI futures over June by as much as $1.53 a barrel as fewer contracts in the active month puts less pressure on that spread when USO has to roll its positions again.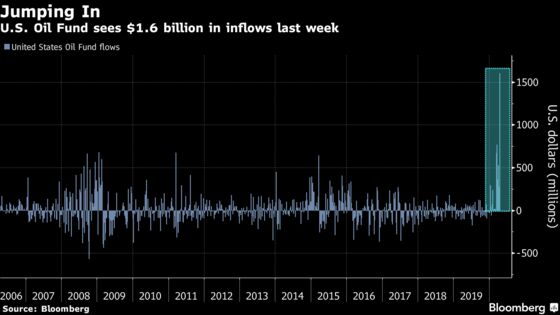 Until the new shares are cleared by the U.S. Securities and Exchange Commission for issuance, the oil ETF will not purchase more WTI futures, according to analysts, potentially adding to pressure on crude prices that have plunged after the coronavirus took a massive toll on global fuel demand.
USO fell 25.1% to close at a record low of $2.81 on Tuesday. June crude oil futures plunged 43%. Trading of USO shares on the NYSE Arca Inc. will not be discontinued as a result of the suspension of sales of Creation Baskets, the company said in the filing.
In effect, until the new shares are cleared, the oil ETF will have characteristics of a closed-end fund, with no easy way to keep its price aligned with the underlying commodity.
Closed-end funds often trade as sizable discounts or premiums to the market value of their constituents since there's no way to offset buying and selling demand in the secondary market by adjusting the supply of shares. USO closed at a premium of roughly 8.4% to its net-asset value on Friday.
John Love, president of USCF LLC, did not immediately respond to request for comment.
The fund held 23.5% of June West Texas Intermediate crude futures contracts on the New York Mercantile Exchange as of Monday. It also holds some July contracts, a change it implemented earlier this month.
Normally, specialized traders known as authorized participants will sell shares of the rallying ETF and purchase the underlying securities to pocket a virtually risk-free profit. That process usually keeps the ETF's price in lockstep with the fund's net asset value. However, with the authorized participants no longer able to create shares, that arbitrage trade has been disrupted.
Since demand for the ETF has been running high, the secondary market is likely to support its stock. At the same time, with no new shares being created, market makers have less incentive to purchase oil futures to exchange with the fund.
The elimination of those buyers could put downward pressure on the underlying commodity, offsetting some of the upward pressure on the shares.
"The ETF should completely disconnect from fundamentals and could cause a hell of a short squeeze," JonesTrading's Dave Lutz wrote in a note Tuesday.
Investors looking to bet against the ETF may explain some of the demand for new shares, he said. In the "create-to-lend" process, new shares of an ETF are generated in order for traders to borrow and sell short.
Other funds are feeling the stress as well. Horizons ETF Management said on Tuesday that it will not accept new subscriptions for shares of its BetaPro Crude Oil 2x Daily Bull ETF or its twice-leveraged daily bear ETF, while redemptions will continue to be accepted.
Meanwhile, Barclays Bank Plc said late Monday it will suspend further sales and issuance of its iPath Series B S&P GSCI Crude Oil Total Return Index ETNs immediately and exercise its issuer call option and redeem in full at the end of the month.