U.S. Leveraged Loan Funds See Outflows Persist for 17th Week
(Bloomberg) -- Investors pulled $606 million from U.S. leveraged loan funds extending a losing streak to 17 consecutive weeks, according to Lipper data, as investors remain bearish on floating-rate assets.
The exits have been increasing after moderating earlier in the month. The latest loan flow for the week ended March 13 compares to a $291 million outflow for the previous week. So far this year loan funds are down $7.8 billion.
The net outflow included $503 million pulled from mutual funds and $102 million withdrawn from ETFs. This continues a stretch that began at the end of November that includes four of the largest outflow weeks on record.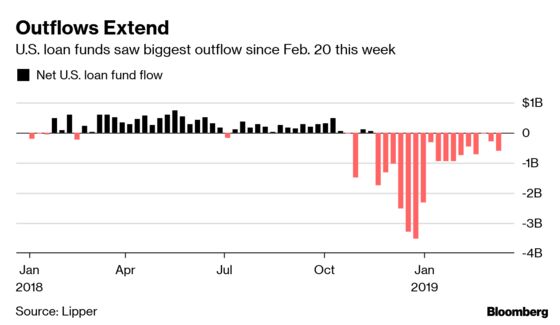 Leveraged loans lost much of their appeal as a hedge against rising interest rates when markets began to expect the Federal Reserve to cease rate tightening.
Due to the persistent outflows and slower new CLO formation, the S&P/LSTA Leveraged Loan Price index declined to 96.85 on Wednesday from 97.01 a week ago. Despite softer demand, the dearth of new supply has been a support for the loan market this month. The term loan in the financing deal for Johnson Control International's battery unit, for example, upsized by $1 billion via a shift from bonds while pricing tightened.