U.S. Leveraged Loan Funds See Seventh Week of Outflows
(Bloomberg) -- U.S. leveraged loan funds saw $2.3 billion of outflows in the week ended Jan. 2, according to Lipper, the fourth largest exodus on record.
Investors pulled $2.14 billion from mutual funds that buy the debt, according to Lipper. Exchange-traded funds lost $180 million, Lipper data show.
Recent outflows have contributed to negative sentiment that has weighed on secondary loan prices, which had been trending downward since the start of November, but began to rebound this week.
It was the seventh straight week of outflows, all of which exceeded more than a billion each, and the longest negative streak in a year. Last week saw an outflow of $3.5 billion, the largest outflow to date. There has been $15.7 billion withdrawn from loan funds since Nov. 21, Lipper data show.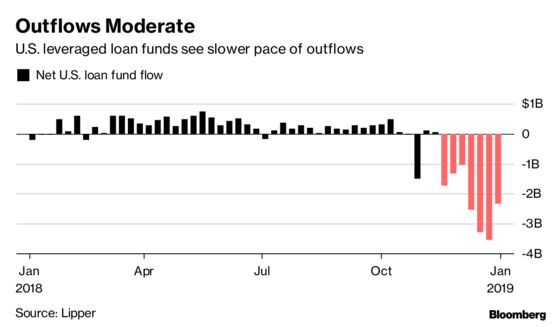 Leveraged loans are viewed by investors as both an interest rate hedge and relatively high credit risk. Funds saw inflows for most of 2018 fueled by outsized demand for floating-rate assets in what was seen as a rising rate environment, as well as an ongoing hunt for yield.
Reduced rate hike expectations for this year conspired with rising fundamental credit concerns to drag loans down in the fourth quarter of 2018. The exodus from leveraged loan funds accelerated after last month's Federal Reserve meeting, which cut the tightening scheduled to two rate hikes in 2019 from three.
Loans suffered the worst monthly return since mid-2011 in December, dropping 2.5 percent. Still, they held onto a rare gain in U.S. credit markets, rising 0.44 percent as high-yield bonds lost 2.1 percent.
Last year's return was the third worst for the S&P/LSTA Leveraged Loan Index in 20 years. Loans have had only two down years this century -- once during the financial crisis in 2008, when losses ballooned to negative 29 percent, and again in 2015 when collapsing energy prices sent returns to negative 0.69 percent.
U.S. leveraged loan sales fell to $814 billion in 2018, down 25 percent from the record $1.1 trillion issued in 2017. December sales were the lowest for that month since 2011, Bloomberg data show.